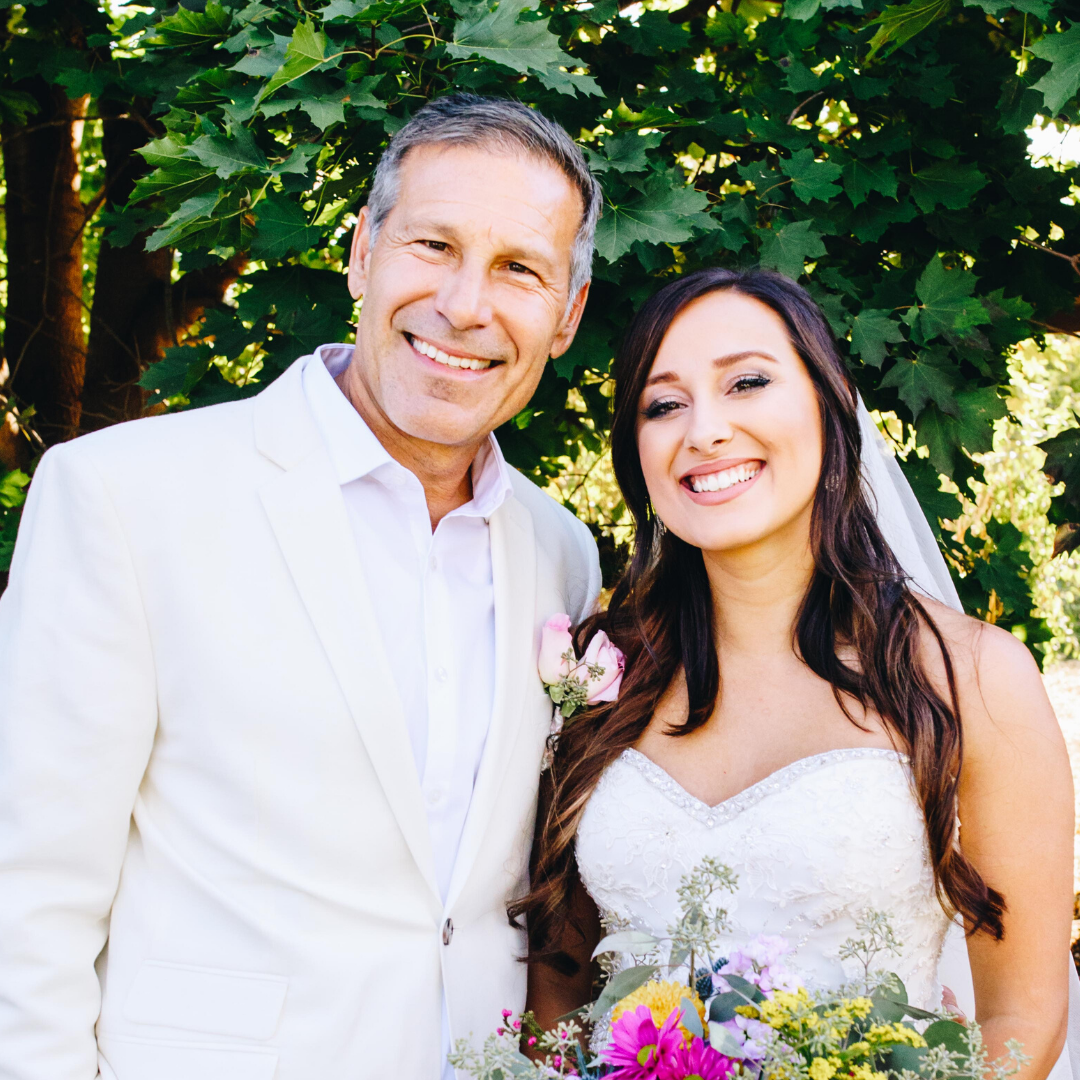 Dads are great. As a girl who has an amazing dad, I know the power words coming from a dad can have. Dads, in all their imperfections, are so so so needed in our lives. I have come to realize that dads show us small glimpses into how powerful our father in Heaven loves us. I have two stories about how our (John and mines) dads have impacted our lives. My dad taught me how to mow in straight lines, use a credit card, drive a car, and work hard. He also taught me about my God-given worth.
He predestined us for adoption to Himself as sons through Jesus Christ, according to the purpose of His will.

Ephesians 1:5
Identity in Christ
There's two moments I remember my dad speaking words of value and worth into my life. I was loading up a truck with flowers and soil. My Dad had the shovel and I had on garden gloves. This was a typical Saturday at the Pflederer's house. I remember telling my dad how I sometimes feel nervous when talking to my teachers about assignments. He told me he couldn't believe that. He said, "Hannah, you are very confident". I have lived into those words.
For at one time you were darkness, but now you are light in the Lord. Walk as children of light.

Ephesians 5:8
Another time my dad spoke into my value and worth was after I went through my first break up with a boyfriend. My dad told me how there was nothing wrong with me. He said when I find the right guy there won't be a doubt in that guy's mind. It's not that my dad quoted scripture to me, it was how he treated me. He wanted me to be protected, safe, have the freedom to live life and grow. He wanted me to have friends and to eventually marry someone who would value me as much as he did. Dads have that kind of power over their kids. Psychology talks about how dads have a large impact on their kid's self-esteem in their adolescence and later developmental years. I needed those conversations with my dad. I knew he loved me. He valued me. When I heard that God created me with value and loved me, it wasn't hard for me to see this love and accept the free gift of grace and love of Christ.
About Grace
4 But God, being rich in mercy, because of the great love with which he loved us, 5 even when we were dead in our trespasses, made us alive together with Christ— by grace you have been saved — 6 and raised us up with him and seated us with him in the heavenly places in Christ Jesus, 7 so that in the coming ages he might show the immeasurable riches of his grace in kindness toward us in Christ Jesus. 8 For by grace you have been saved through faith. And this is not your own doing; it is the gift of God, 9 not a result of works, so that no one may boast. 10 For we are his workmanship, created in Christ Jesus for good works, which God prepared beforehand, that we should walk in them.

Ephesians 2:4-10
Understanding that salvation comes from Christ's grace is so simple, yet hard to grasp. For a young John Miller, this lesson came early. He was acting out in Sunday school. His dad took away his privilege of watching football that afternoon. Later his dad put his arms around him and said, "I am going to give you something, son". His dad went on to share about the gift of grace. Dad was going to allow John to watch football, even though he didn't deserve it. That's what grace is — a free gift that we don't deserve. John's dad told him that that was what Jesus gives us. It is a gift because there is nothing we can do to deserve it.
In Him we have redemption through his blood, the forgiveness of our trespasses, according to the riches of his grace, 8 which he lavished upon us, in all wisdom and insight 9 making known to us the mystery of his will, according to his purpose, which he set forth in Christ 10 as a plan for the fullness of time, to unite all things in him, things in heaven and things on earth.

Ephesians 1:7-10
That lesson so impacted John's life. Later he became a youth pastor and now teaches Sunday school. That Sunday school teacher is my hubby. I am forever thankful for how his dad, my father-in-law, taught John about grace.
For Those Who Don't Have a Dad
If you don't have a dad who is present in your life or who doesn't speak words that are empowering over your life — you have a Heavenly Father. You have a daddy who loves you so much He died for you. He desires to have a relationship with you. He destroyed every wall that kept you from knowing Him. He conquered death just so that you could walk and do life with Him. Wow, if I (Hannah) could only tell you how much you are loved!!!!! Please don't let the damage or apathy of your dad on earth keep you from knowing your dad in heaven.
For Dads
If you are a dad, thanks for hanging in there with your kids. Your words and actions matter. You have a unique design to speak into your kid's lives in a way that shows a part of the heart of God. Even your adult kids are impacted by the way you show each one that they matter. Happy Father's Day!
For in Christ Jesus you are all sons of God through faith.

Galatians 3:26
In conclusion, the dads in our lives have such an important role and it is a good thing to celebrate them this week! They are little glimpses into how God loves us. God desires to show us so much grace and gives us an identity that empowers us and gives us a place in a family. Dads on earth have the opportunity to show us just small reminders of how much God, our perfect Father, loves us with an unconditional love.