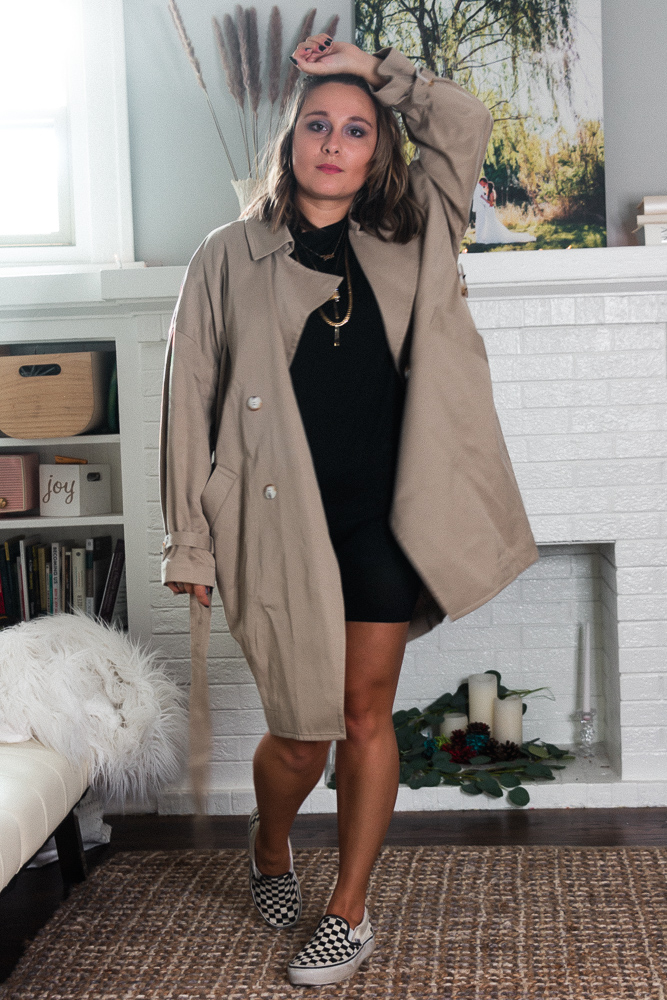 ---
Biker Shorts Have Been My Favorites This Summer… So I am Keeping Them Out For Fall…
Here's a few really fun weekend/ street style looks for the fall. These outfits will keep you feeling cute, comfy and cozy. The first outfit can't be complete without my acid wash denim button up. I love my black Nike shoes. Those things are classic. If you get a pair of black running shoes you will have them forever! It's a great sustainable purchase.
My second outfit includes a simple grey sweatshirt paired with the bike shorts. I also paired the look with boots. I think this is a chill way to dress the black biker shorts up for a date night. I also think that a nice statement necklace would be a great addition.
Thirdly, I added my new white rain jacket into the look. Living in Chicago I really needed a rain jacket with a hood. I found this one at a random boutique in New Jersey this summer. It's perfect. I love the black tee with the black shorts. I also brought out my Doc Martins for a more street style.
The forth Outfit is my favorite. I found this oversized jacket and will be using it a ton in my fall attire. And of course my vans. Y'all, I have lived in my vans during COVID. Every morning I just want to slip into something. I put on my Vans. My unicorn necklace might be too much — but it's sooooo cute. I thrifted it at a local Salvation Army. So great!
That's all for today peeps! I hope you got inspired and that you go out and get bike shorts or try out these fall looks!
oxoxox Hannah Lynn
Shoe Options