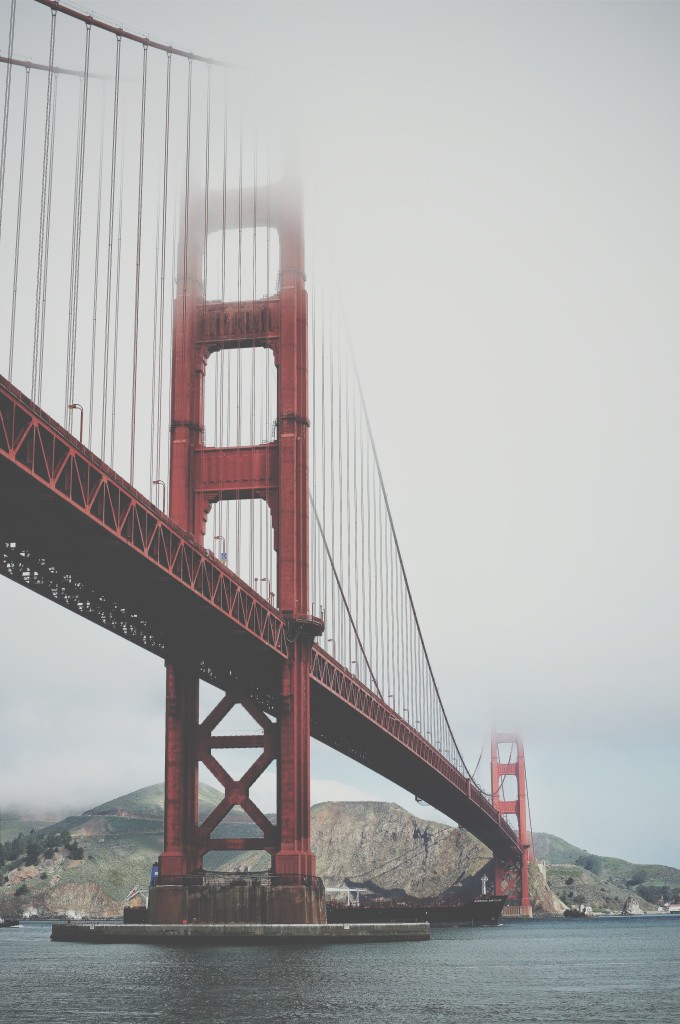 Driving out from the city in Illinois is full of traffic around 3 pm. When you go out farther west you begin to see fields for miles. Little red and white farm houses line the road. You know this because you see everything from the high way. You can imagine my love of the California hills. The round topped mountains are filled with the state's flower, a golden poppy. The bright orange flower adds a pop of color to the already bright, green grass with the contrast of the blue sky above. The Chicago weather this year has been especially miserable. The Alaskan air apparently escaped down to the midwest, giving us -20 degree chills. The sky that looks over the Michigan Lake, usually baby blue in the summer time, is a harsh grey color. The scenery and the weather was enough to convince me that the time was now. Spring break came quick this year, but not quick enough. I packed my three suitcases and hopped on a plane headed to the Oakley Airport in Northern California.
If you have ever had a roommate at any point in time you know that their family does things a bit different than yours and this means your roommate does things differently than you do. Correct? Ya… My roommates and I know this to be very true. Now we laugh about the differences. In the beginning we cried. But as one of them would say "that's life". I went to visit both my roommate's families. Zoe lives in Northern California, while Alyssa
lives in the Southern, grayer grass part of the state. Honestly, the only similarity I found, and those who live in California would agree, is that classrooms for high school and junior high open to the great out doors. This is not how it is in the Midwest. Our children here grow up in prisons, where we do not see the outdoors for days. Yes, I made each of my roommates get out and give me the tour of their high schools. It was fun!
Livermore was the first place I toured. It is a smaller town that makes their money off of a science lab. They have wine country here, which is another thing they are known f
or. This area is quaint, clean and a great place to get out of a touristy place.
Next, I spent my first day in San Fransisco.
The Fisherman's Wharf is a must see. I had a nice cup of lobster bisque here that was amazing. If you walk down the wharf there is shopping, restaurants, tourist attractions, seals and a homeless guy who's sign says "Why lie, I need money for pot". You could spend an entire day there. I stayed for about two hours because that was how long our free parking meter gave us. The three of us girls met up with some of our friends from school who were also in the city that day.
We toured a non-for-profit organization called San Francisco Rescue Mission. A famous pastor and author, Francis Chan was apart of the organization that works with the homeless of San Francisco. They apparently just inherited a block of property and are expanding.
The Golden Gate Bridge you cannot miss. It is very big and red. I wore red lipstick that day… Did not plan this, however, it worked out very well. We went to the look out point to get pictures and to Baker Beach. Both has a great view. There is a park called Golden Gate Park you can visit, but again that can take a day at least. We did not walk the bridge, but I heard that is a great experience. Zoe said she has biked it before and said that worked out as well.
Next, because I needed proof I wasn't in Illinois still. We drove down lombard street, the steepest, curviest street in…. the world?… country?… state?… something like that. Spend time driving the hills and looking at the painted ladies, the brightly colored Victorian styled houses lining the streets. After a long day in the city drive to the top of Twin Peeks. This is a gorgeous part San Francisco that overlooks the city and the perfect way to end the day.
Southern California Here We Come!
HollyWeird is what the locals call Hollywood. This was a fun place to say you visited. There are many random people dressed in costumes, movie theaters and 70s diners. If you want a picture with the sign there is a fun hike to get there. If you have time be sure to tour one of the movie sets in the area. It takes at the longest an hour to get into down town LA so be sure to plan accordingly.
Six Flags Magic Mountain was a blast. It is a 262 acre theme park in the LA area. Goliath, Batman and X2 are my favorite rides!
The only beach I got to catch some waves at is Zuma beach, Malibu. This beach has good surf and holds several premier surfing events every year. This is down the street from the Bachelor House, apparently Lady GaGa's hidden home and is a substitute for those who are not celebrities and would not be welcomed at a nearby beach known as Billionaire's beach.
Some places to eat at is In-n-Out, In-n-Out and In-n-Out. Ok, I really enjoyed this fast food restruraunt! This is something the Mid-west does not have. It is a cheap burger and fries place. Yes, cheaper than McDonalds!
There you have it, the ultimate California experience in a week. The mid-west winters are meant to get you out and explore while searching for the sun. Don't let the cloudy Chicago skies give you Seasonal depression. Travel did my heart good, I hope it does the same for you.