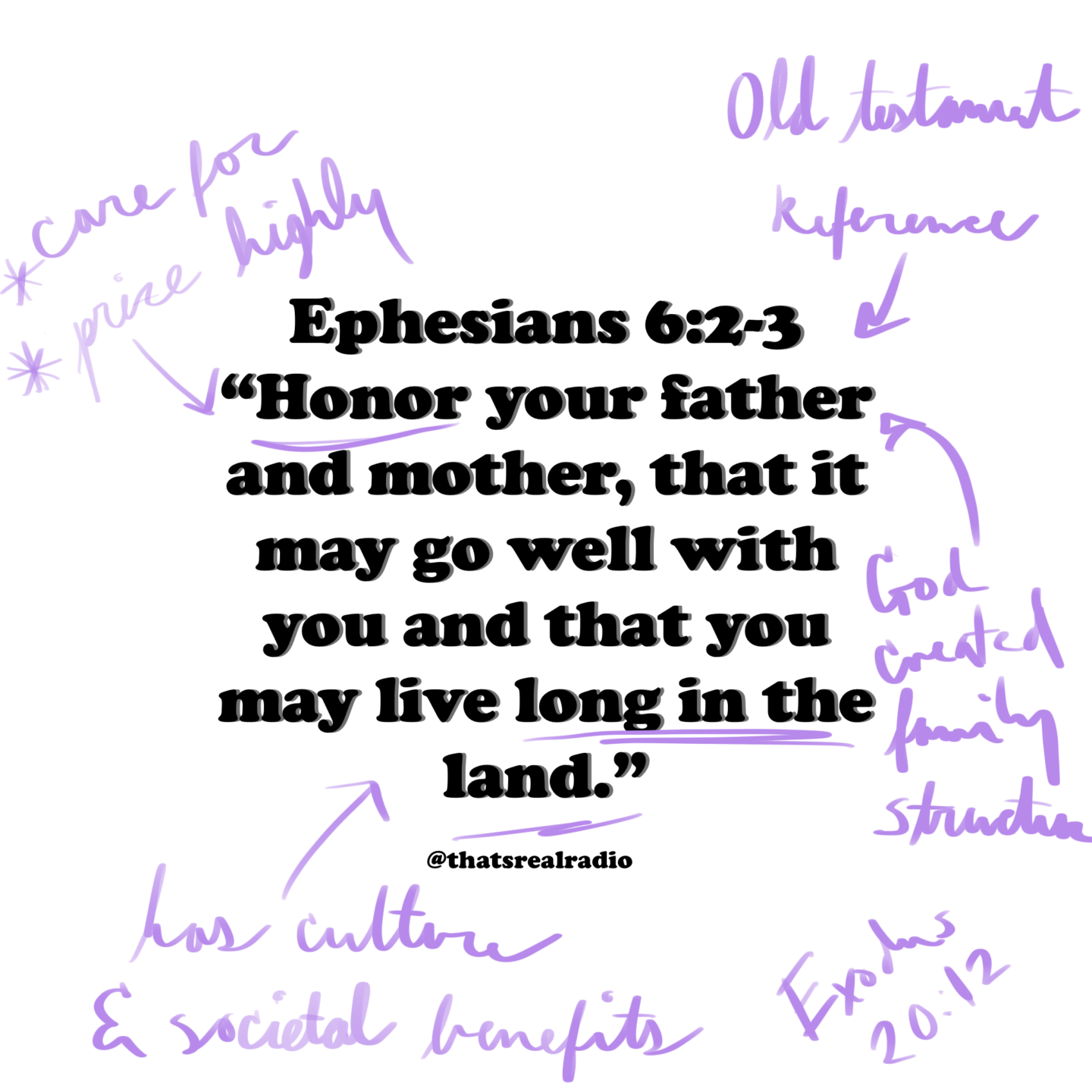 Honoring your parents can be a hard thing to do. When you're a child honoring your parents is simple. Honoring looks like obeying well, doing what you're told, helping around the house. However, what does this look like when you've moved out? You're an adult now.
The Bible has many comments about respecting parents. As I have read through the Old and New Testament I am convinced that God really does want us to respect and honor our parents. I don't want you to get the wrong idea. I know that there are some really unhealthy parents out there. Ones who have hurt, shamed, or have been completely absent. Those relationships are super hard to navigate. Honoring parents doesn't mean you have no boundaries or hard conversations. Let's take a look at what the Bible says.
We see right away in the Old Testament that children should obey, respect, honor their parents. The Old Testament repeats the instructions multiple times to "respect" your parents. Exodus 20:12 says, "Honor your father and your mother, that your days may be long in the land that the Lord your God is giving you." The word honor in Exodus 20:12 means to "care for" or to "price highly". Here's two takeaways from this verse. First, when you price your parent's highly, you listen when they give advice or instruction. You also desire their wisdom. You ask for it. Secondly, to care for your parents is another implication of this verse. You can honor your parents by taking care of them when they grow old. Wow! I find this so interesting because if we keep reading about our days being long and the land that the Lord gave us… we find that honoring our parents has tons of cultural and societal benefits.
Fast forward to Paul in Ephesians 6:2-3, "Honor your father and mother" (this is the first commandment with a promise), "that it may go well with you and that you may live long in the land." Paul is repeating the Old Testament verse in chapter 6 while listing out what respecting and honoring relationships look like. God really does care about the family structure, because He created it. Our job as children is to honor our parents — that's clear.
If it's clear that the Bible teaches to honor our parents and it's clear that God really desires this from us, what does this look practically between an imperfect child and parent relationship? Your first job is to obey God. Always. It is also important to note that honoring doesn't always mean doing what they've told you to do. As an adult child it is important to make decisions on your own.
Here's what I've found very helpful in my own relationship with my parents.
Speak well of your parents. At the end of the day they are your parents and if they have been present in your life odds are there are probably some good you can point to. This is so good because whether you know it or not, they will feel honored by your kind and honoring words. I remember going out of my way with my Dad when we weren't getting along. He came to me and told me he felt very honored in the way I would speak about him to others. We just happened to not get along during this season of life and that happens, but I was still going to speak well of him.
Find an area of your life where you need some guidance and your parents can speak into. For me, I asked my dad about the guy I should or shouldn't date. It took me a while, but once I realized, hey, wow Dad knows what he's talking about, I would ask his advice. For my mom, we are very similar so I started taking her advice on career choices. She always said I should have gotten my degree in Communications and she also told me to go back to get my masters otherwise I will regret it. Why do I listen? Because I value her opinion and because she's been there before me. This will also help your relationship with your parent. They will feel valued and respected.
Honoring your parents as an adult is not an easy task. Family can be messy! However, it is clear that honoring our parents is something God gets excited about. He created the family system. Talk to God about your relationship with your parent. Bring Him into the relationship. Ask for wisdom on what honoring your parents really looks like. He also sees you caring for your elderly parent, praying through conflict with your mom or dad, or resisting the urge to speak negatively about the ones who raised you. He sees you honoring your parent — even when they may not. For now, speaking well of your parents and asking their advice for specific things in your life can be two easy steps to honoring them as their adult kid.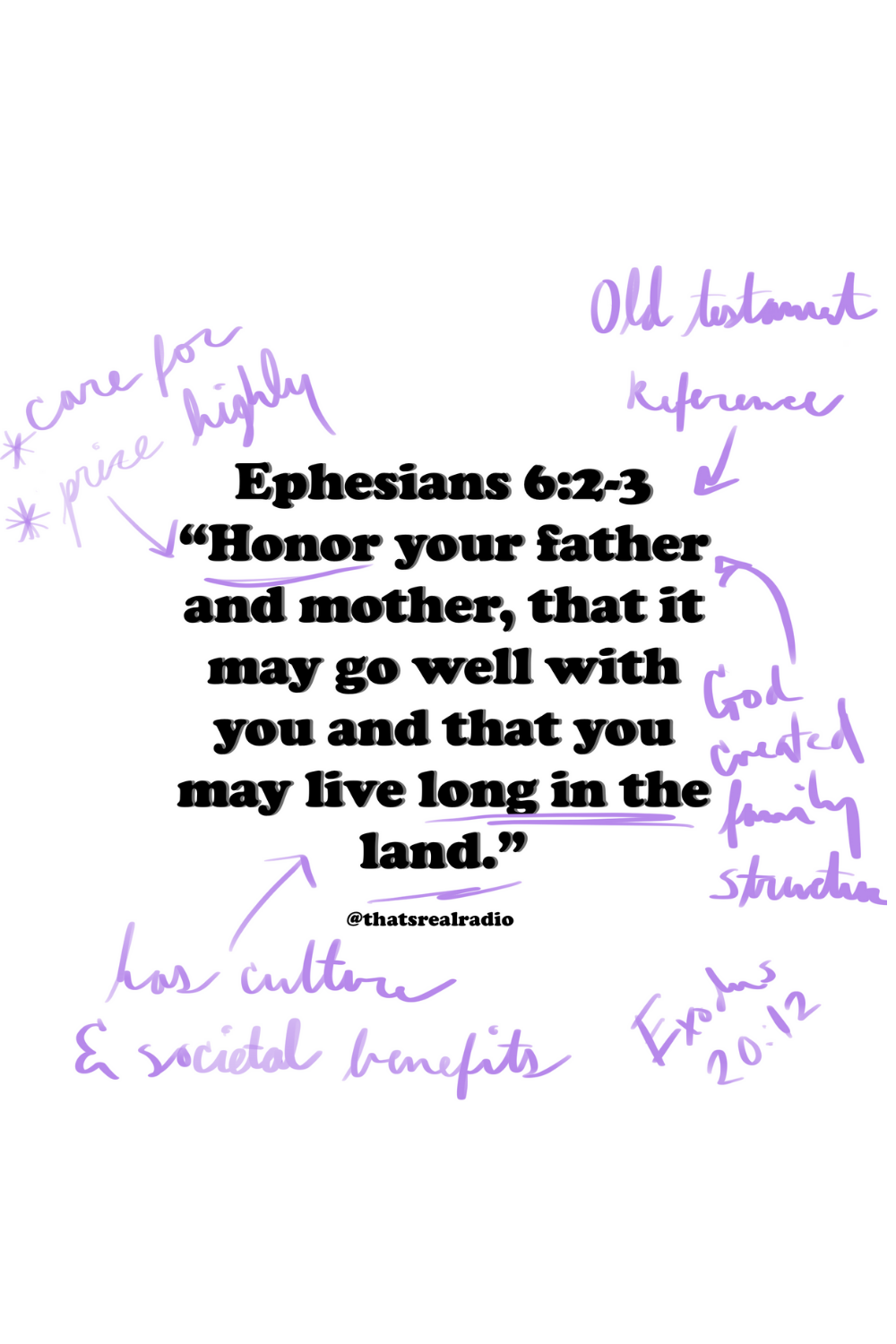 Rydelnik, Michael, and Michael G. Vanlaningham. The Moody Bible Commentary. Moody Publishers, 2014.