Fall Fashion Inspiration
Fall fashion trends from the TV show Friends were notably diverse and timeless. Throughout the series, the characters showcased an array of stylish attire that reflected the fashion of the 90s and early 2000s. Rachel Green, known for her iconic wardrobe, often embraced the quintessential fall staples such as oversized sweaters, plaid skirts, and knee-high boots. Monica Geller sported stylish blazers and tailored pants, exuding a sophisticated and polished look. Phoebe Buffay's bohemian-inspired outfits featured cozy knitwear, printed dresses, and layers of accessories, capturing the boho-chic trend of the era. Ross Geller showcased a more casual and laid-back style, often seen in turtlenecks, leather jackets, and denim. Joey Tribbiani's fashion choices reflected his effortless charm, with leather jackets, graphic tees, and stylish jeans. Friends undoubtedly left a lasting fashion legacy, inspiring audiences with a range of fall looks that continue to resonate to this day.
During my third trimester, I have been binge-watching Friends again. I really love being pregnant in the fall. I am ready for the cozy sweaters and the warm blankets along with the fun fall fashion trends. I was inspired to put together a short list of my favorite trends that are coming back around. Below is my list of my favorite trends from the Friends TV show that I can see in this year's fall fashion.
Phoebe's long dress and scrunchies are perfect for fall
Scrunchies are a popular accessory that originated in the 1980s and 1990s and have made a comeback in recent years. These fabric-covered hairbands are known for their ability to add a fun and playful touch to any hairstyle. They come in a wide range of colors and patterns, making them versatile and easy to match with different outfits.
90s long dresses were a popular fashion trend that exuded a sense of effortless cool and femininity. These dresses often featured floral prints, spaghetti straps, and flowy silhouettes, capturing the bohemian spirit of the era. Pairing them with chunky boots or platform shoes added an edgy touch to the nostalgic look.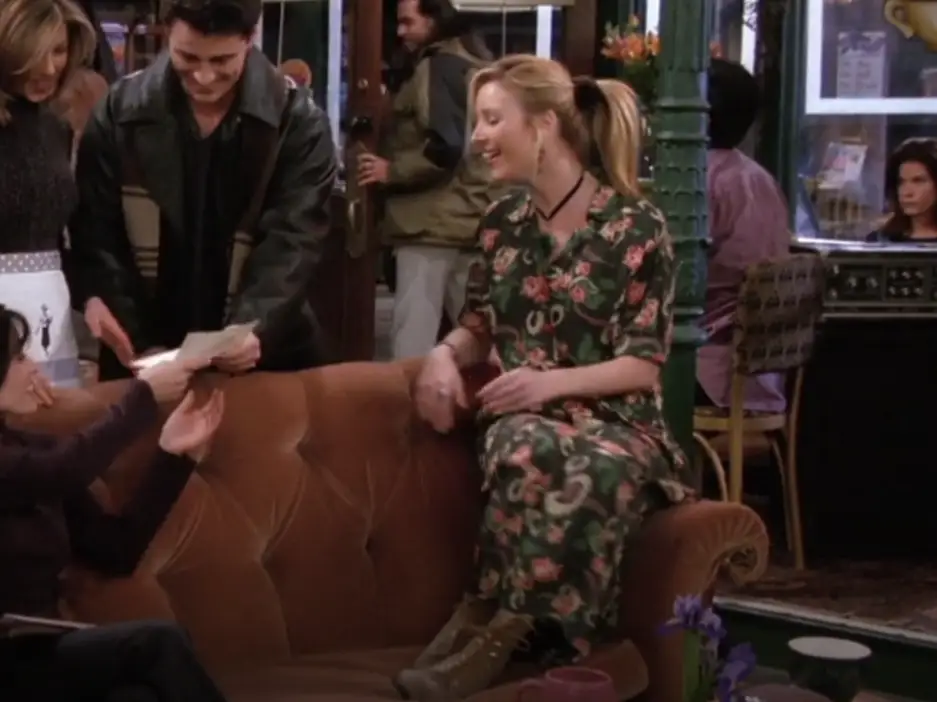 The 90s Mom Jean
90s mom jeans are a timeless fashion staple that has made a major comeback in recent years. Known for their high-waisted, relaxed fit, and straight legs, these jeans offer both style and comfort. They can be easily paired with a variety of tops and shoes, making them a versatile choice for any casual outfit.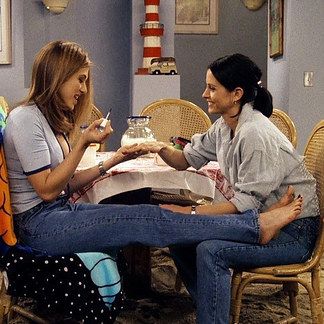 Rachel's Black Overalls
When it comes to styling black overalls for fall, you can achieve a chic and cozy look by pairing them with a chunky knit sweater or a long-sleeved plaid shirt. Complete the outfit with a pair of ankle boots or combat boots for a touch of edge. For colder days, layer a faux fur or leather jacket on top to add warmth and style to your ensemble.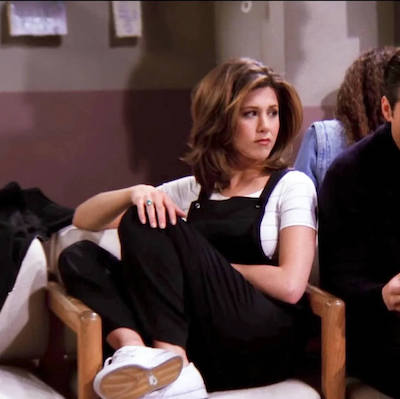 Preppy sock-and-skirt ensemble
Preppy sock-and-skirt ensembles are a charming and classic look for the fall season. By pairing a pleated skirt with knee-high socks, you can create a sophisticated outfit with a touch of youthful flair. Opt for neutral or autumn-inspired colors like navy, burgundy, or mustard to complement the season. Complete the ensemble with a cozy sweater or a button-down shirt and finish off with loafers or Mary Jane shoes for a polished yet playful look.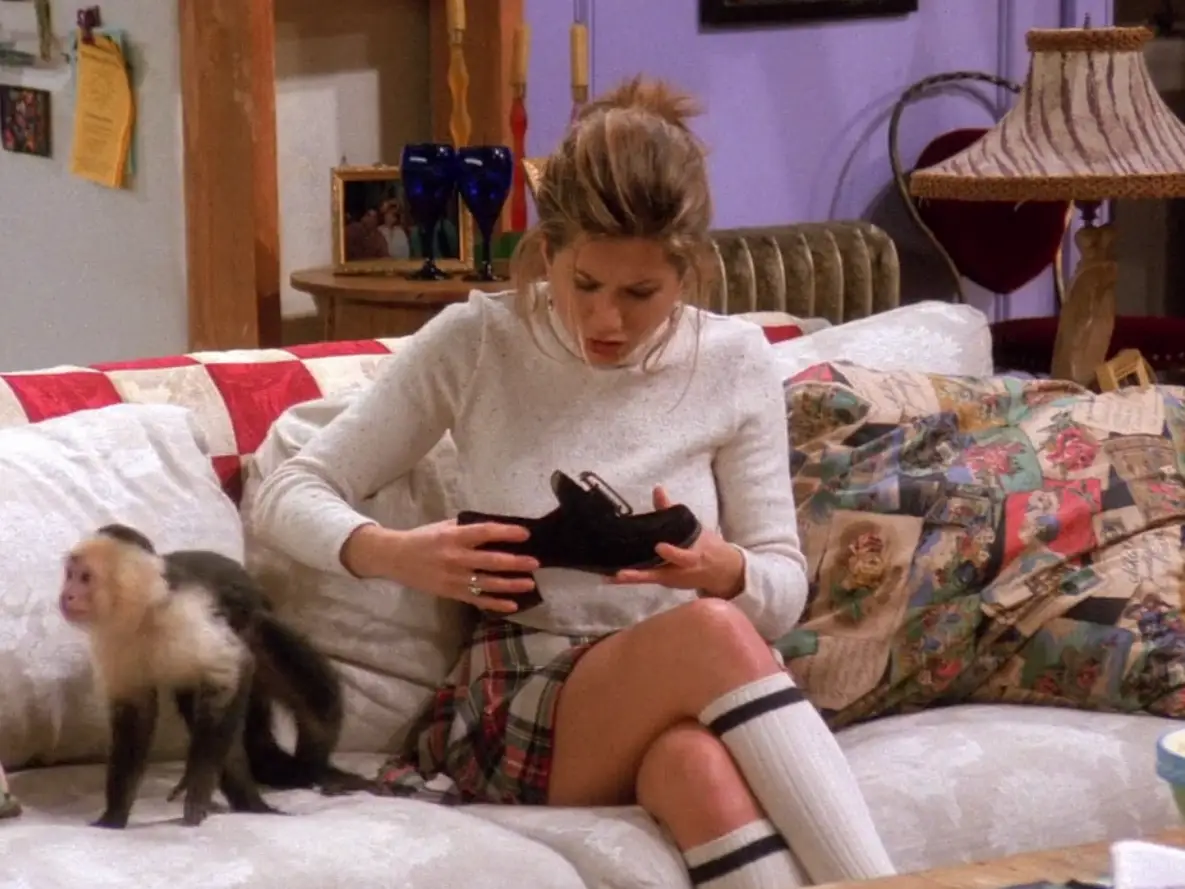 Fall fashion trends from the TV show Friends continue to inspire and influence fashion choices to this day. The characters of Rachel, Monica, Phoebe, Ross, and Joey showcased a variety of stylish outfits that captured the essence of the 90s and early 2000s. From Rachel's oversized sweaters to Phoebe's bohemian-inspired dresses, these timeless looks have left a lasting impact on the fashion world. So, as the leaves change and the temperature drops, take a cue from the iconic Friends characters and embrace the season's cozy sweaters, long dresses, mom jeans, overalls, and preppy sock-and-skirt ensembles. Fall fashion has never looked so nostalgic and effortlessly cool. Get ready to make a stylish statement and channel your inner Friends character this season.
Fall Fashion Trends from the TV show, Friends

Suicide Prevention: How to Help a Friend Who is Struggling with Their Mental Health
How to Overcome Loneliness

How to Style a Twin Bed Like a Daybed