We love fashion here.
Using Conscious Fashion to Build a Wardrobe
If you love keeping up with trends, and finding your own personal style — you are in the right place. We believe that fashion is a place where you can express your freedom in Christ. When you are changed from the Inside out people notice. All of a sudden you no longer dress for attention, but for expressing yourself and who you are. You know your identity and this doesn't change with the changing fashion seasons.
Religion says you are too much, hide, and cover yourself with shame. Jesus Christ says I have paid the price you have freedom, my child.
Theology and Fashion
The Bible talks about fashion in a very interesting way. The Bible has many examples of the wrong way it is used and there's examples of how God knows that what you wear is important to you. Fashion should never BE your identity. The Bible also offers a better place to put your identity.
Fashion or adornment, as the Bible says, is used in a wrong way right at the beginning.
The first two women mentioned in the Bible who are married to the same man (which is never God's desire) are named Adah and Zillah (Genesis 4:19-26). Adah means adornment and Zillah means shadow. When I found this out I got goosebumps. Isn't this the shallow struggle of being a woman? Their husband, Lamech, was a wicked and violent person. He murdered a person for injuring him and then brags about it. It's in the Bible to show how this is wrong. A woman is not meant to be a shadow nor an adornment. And we can't let either happen.
In the New Testament we read that women were finding new freedom in a culture where they were considered property. In 1 Timothy 2:9, "likewise also that women should adorn themselves in respectable apparel, with modesty and self-control, not with braided hair and gold or pearls or costly attire, but with what is proper for women who profess godliness—with good works." We see this very specific list. This verse has been taken literal and used to control what women wear for centuries. I think it's important to look at this verse and remember the hellenistic culture was a very simple. Women dressed simply. Women who were finding equality with men through the Gospel message for the first time immediately expressed this freedom through fashion.
1 Timothy 2:9 is also a reminder from Paul that women are not to be an adornment or something to be owned, co-owners with Christ. And this was a reminder from Paul to basically not dress weird. For us today it is important to remember that that passage is cultural. Our takeaway is that Jesus gives us something amazing in His grace — freedom and an identity that doesn't change.
My favorite person in the Bible is Lydia. She is mentioned in Acts 16:11-15; 40. She was a seller of purple goods and must have had great influence. She was the first one to believe in Jesus in her community and after that her family all came to know Jesus. The Bible never mentions her in relation to a man. Women in that time were known by their father or man, however, Lydia's family isn't really mentioned. This is clear, through the fashion of that day, purple fabric, she had great wealth. She helped support Paul and the church leaders when they came to Philippi. She's also mentioned with Dorcus and Phoebe who were very influential leaders or deaconesses in the early church. This fashion designer helped grow and spread the Gospel.
Therapy and Fashion
Fashion is the best self care in my opinion. Self-care, as defined by the Oxford Dictionary, is the practice of taking an active role in protecting one's own well-being and happiness, in particular during periods of stress. Self-care is a tool to help us as life gets crazy. Unplanned, unwanted, and not fun to wake up to life circumstances — we've all had 'em. How do we keep going? We spend time alone to journal, pray, read our Bibles… But what about when it's hard to get out of bed? And you have to finish classes, get to work on time, take care of kids… There's many techniques that you can read about in psychology and learn about in counseling and therapy. One of the tools I'd like to suggest to you is fashion.
Fashion, Therapy, and Theology.
There's many reasons why fashion is a form of self-care. We live in a broken world. From the very beginning God did give Adam and Eve clothing as a protection. And to this day, clothing is a protection, a form of expressing ourselves without letting everyone know what is going on inside. Clothing is an emotional boundary in a way. Fashion is a preview you give to the world about yourself. Feeling stressed, I make it a habit to dress up to feel ready. When you are overwhelmed, you may look forward to a new makeup technique. There's so much to be said about how emotions, how we are created, and what we wear go together. I am not just making this up, there's Fashion Psychology behind this self-care method. Here's an interesting fact about fashion psychology that you may not have known. It's been around for a long time.
You can read more about this topic HERE.
Conscious Fashion
On this blog I try to show you the best brands who are ethical, sustainable, and fairtrade. When I find a company that I love I just want to share this with you. I will also tell you when I thrifted the piece I am wearing. I thrift soooo much! Not only because it is good for the environment (fast fashion has been filling up landfills at crazy amounts in the most recent years) but also because it's a great way to save money. You can read more about ways to shop sustainably and ethically HERE.
You can browse the categories below for more fashion content.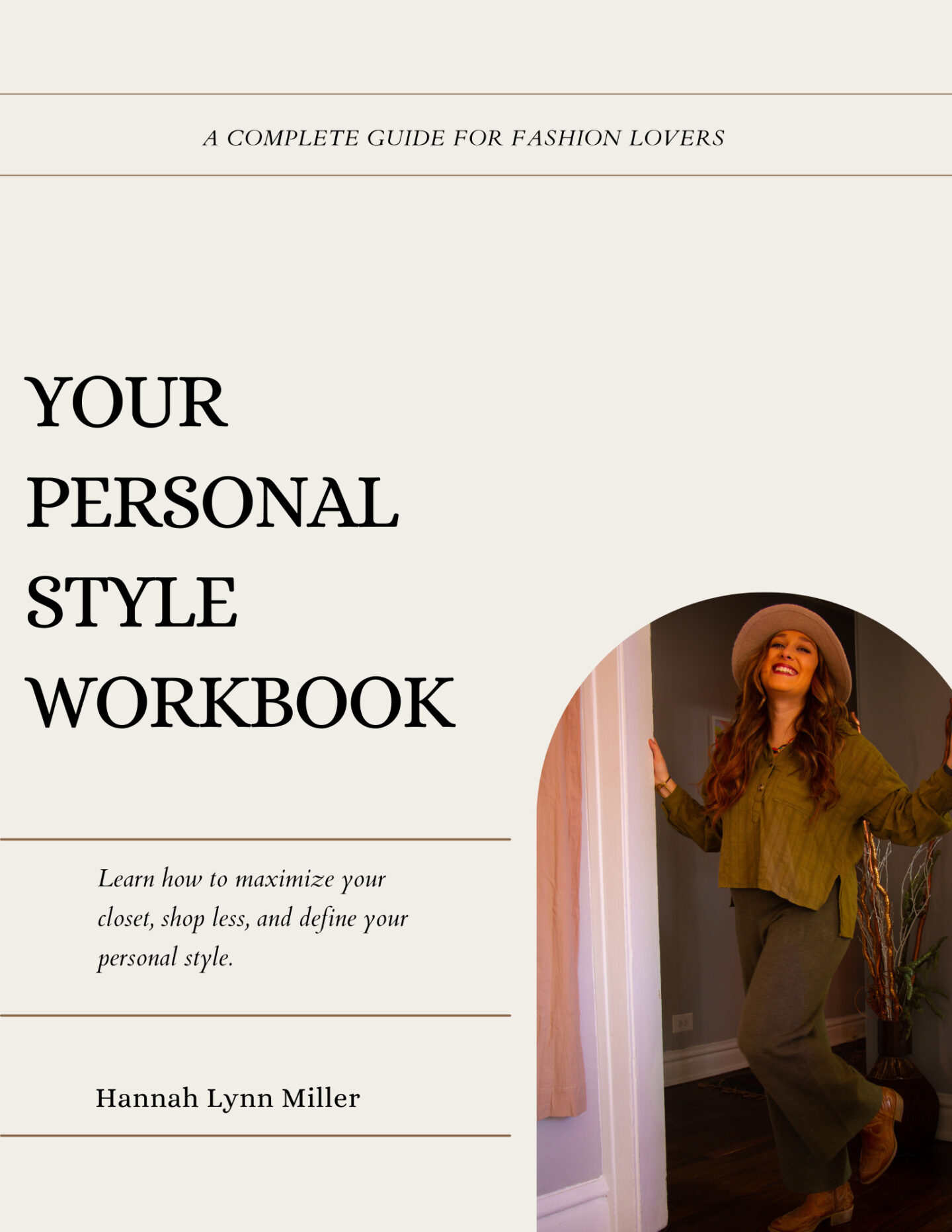 Your Personal Style Workbook
Take some time to think through what is in your closet, why and where you'd like to buy what you need next. Try out this workbook to create a personal style.
Fashion Binge-Worthy Content