Links on this post may have affiliate links.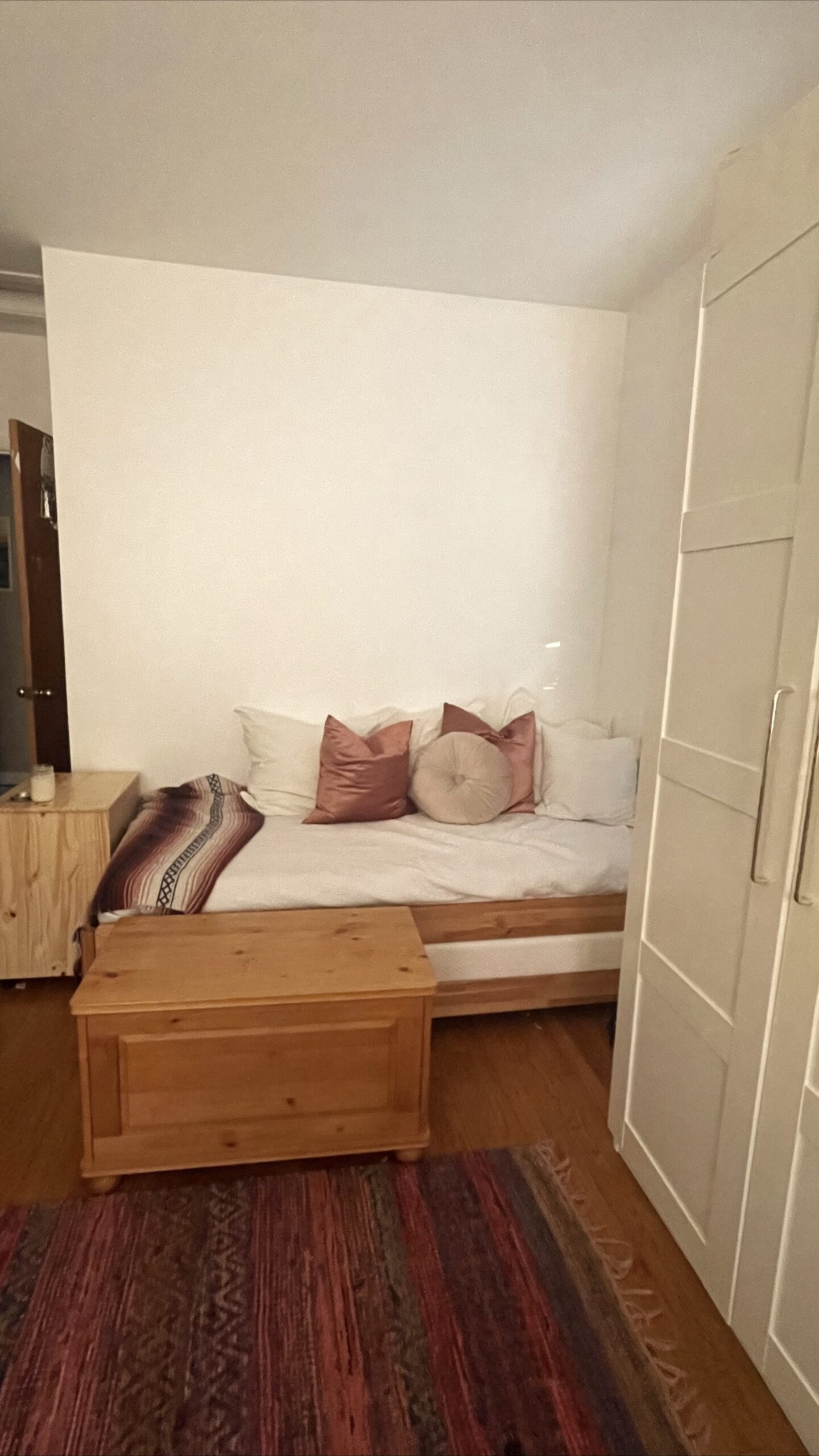 When you think of a daybed, do you envision something with a fancy headboard, pillows and decorative throw blanket. While you can find day beds that look like these items, there are less expensive options available as well.
I wanted my office to feel cozy. I had a vision of using the space as a second guest bedroom as well. We have a lot of family from out of town and I always wanted them to feel like they could comfortably visit when they wanted to. I saw a few great photos from Pinterest that used a twin Ikea stackable bed in many different ways and I thought it would be a good piece to purchase as I am always moving around my furniture and spaces. I decided to style the twin as a daybed. Here are some of the ways I found creating a twin into a day bed to be helpful.
In the same way that a daybed can be transformed into a comfortable space for lounging, an IKEA twin bed can be transformed into a chic daybed. The key is to keep the mattress low to the ground and use pillows and blankets to create a sense of separation between sleeping and lounging.
How to start styling your daybed
Choose your mattress. If you have an IKEA twin bed frame, it's important that you use an IKEA twin mattress. These are slightly narrower than traditional mattresses, but they are designed specifically for use with IKEA frames. If you don't have an IKEA frame, but still want a twin-sized mattress, consider buying one from another retailer or using two full-sized mattresses instead (side by side).
Add some pillows! A good way to achieve the look of a daybed is to add lots of pillows around the edge of your mattress so that there's plenty of room for sitting up or lying down without touching the floor with your feet or hands (or face). There are different ways to do this depending on how much space you have in your room:
Find a comforter, fitted sheet, or a duvet to put over the day bed.
What you may need for your daybed
Get a mattress cover
Add a long bolster for a custom look
Add a throw to help break up the horizontal line of the daybed and bolster
Use two large pillows on either end of your daybed to help ground the corners
Mix in an assortment of different-sized, shaped, and textured throw pillows in a corresponding color palette
Add a pet to cuddle with you on your well-styled daybed
Favorite products for your daybed
Below is some of the inspiration I found on Pinterest. Above is my daybed situation in my office. I think it's a cute place to sit during an in-person podcast interview too. What do you think? Which style would you try?
HL