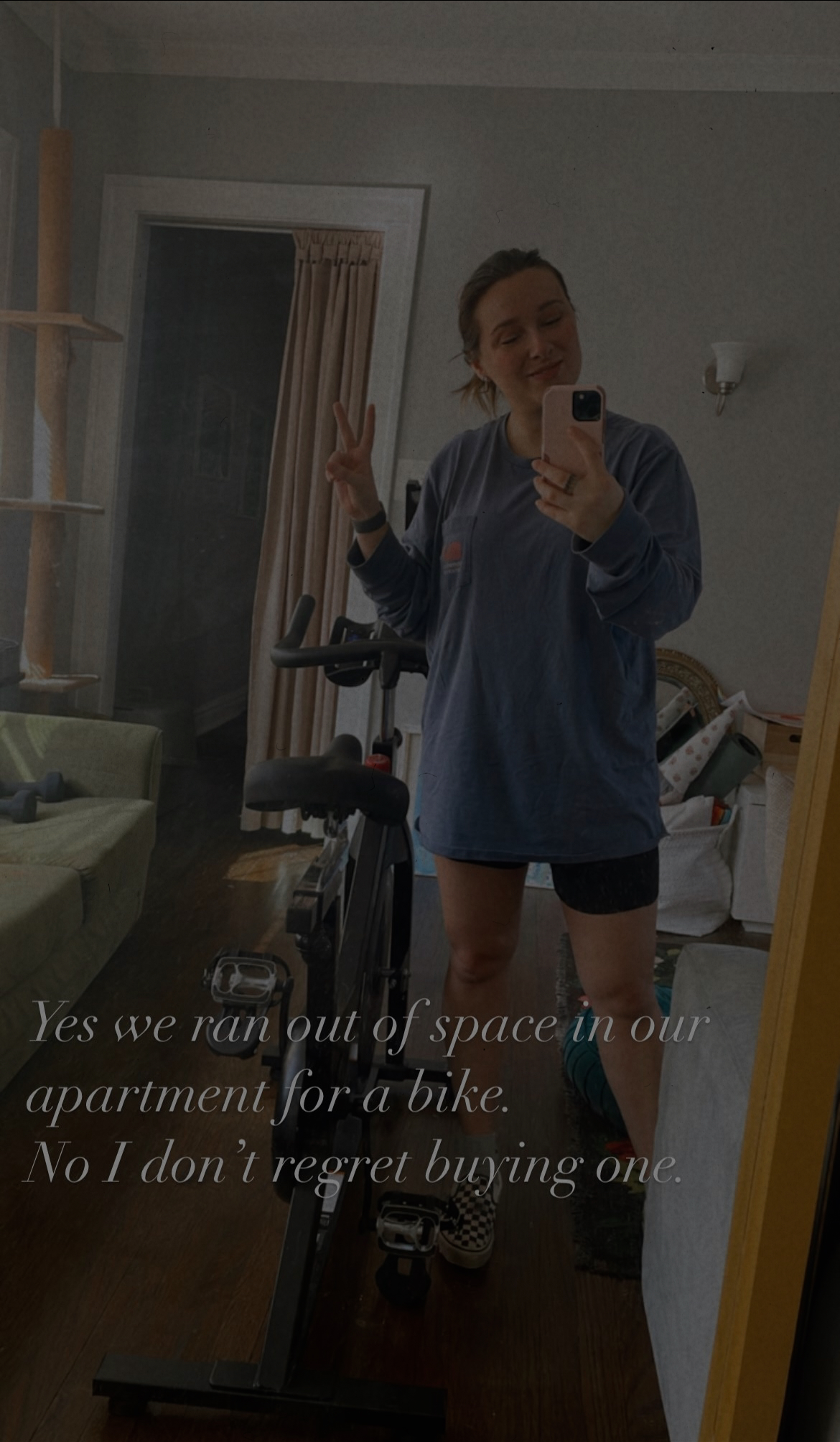 There are affiliate links in this post. When you purchase an item on the link I will receive a small commission.
If you've been on this health journey with me you know how much I've been TRYING to find some kind of exercise that will work with my ever changing lifestyle. In 2020 my body just shut down on me. I was having major stomach pains and bloating. I came to find it was IBS. No one really knows where IBS comes from or why some have it. I learned that it was a lot to do with stress and the nervous system. Did you know that your brain and your gut does the most communication out of all your other body parts? I learned this when I was researching my symptoms. I tried to eliminate my stress levels, used facial reflexology, started taking probiotics, and cut gluten out of my diet. The next step was finding ways to exercise that didn't cause more stress on my body. Running was not working for me. I needed a new form of cardio that was a little easier on my body.
Enter the bike conversation. John and I were talking about buying a peloton last year around this time. We thought about it but the conversation didn't go very far. The price! I couldn't get past the price. This time we talked about it and John did the research. Here's the spin bike we found and why I am now a fan of spin biking as cardio.
So instead of paying $1,495 or $45 a month for two years you can pay $499 once for the same workout. First, the reason the peloton is so great is because of the app and the ways you can track your progress. The competition that is worked into the app is what most people rave about. However, if you're like me and the only competition that helps you is the one against yourself, then why pay that much for a brand.
The bike we found is from the company www.spinning.com I found almost the same bike on amazon for cheaper on Amazon HERE. On www.spinning.com there's so many price points and spin bike options. We bought the cheapest one.
Here's the negative sides of the spin bike: There's no app subscription, but I am ok with it because we might buy the peloton app. With the peloton bike the subscription is $40 but for those who do not have the bike — you can get it for $20. For now, I am really enjoying using my apple watch for tracking calories and time. The other downside is that there's no way to control the levels on the bike. The tension on the bike is controlled by the knob under the handlebars. This is actually similar to the peloton. I think this is why a good app/ program is important when using a spin bike at home. Those two are the only negative aspects of the bike. So far, I am loving it. I think I may update you on this review a year after using the bike.
Here's all the benefits of using a spin bike for cardio:
You have less risk of injury. Running is hard on your joints, while biking so not.
A bike doesn't take up any electricity. So if you are in an old apartment like John and I, you won't have a power problem like a treadmill.
Spin bikes are always cheaper than a treadmill.
Spin bikes take up less room.
You'll be ready to go on a bike ride outside, which I find way more enjoyable than a run.
Do you have a peloton? Or have you tried a home spin bike? Let me know in the comments your thoughts.
HL