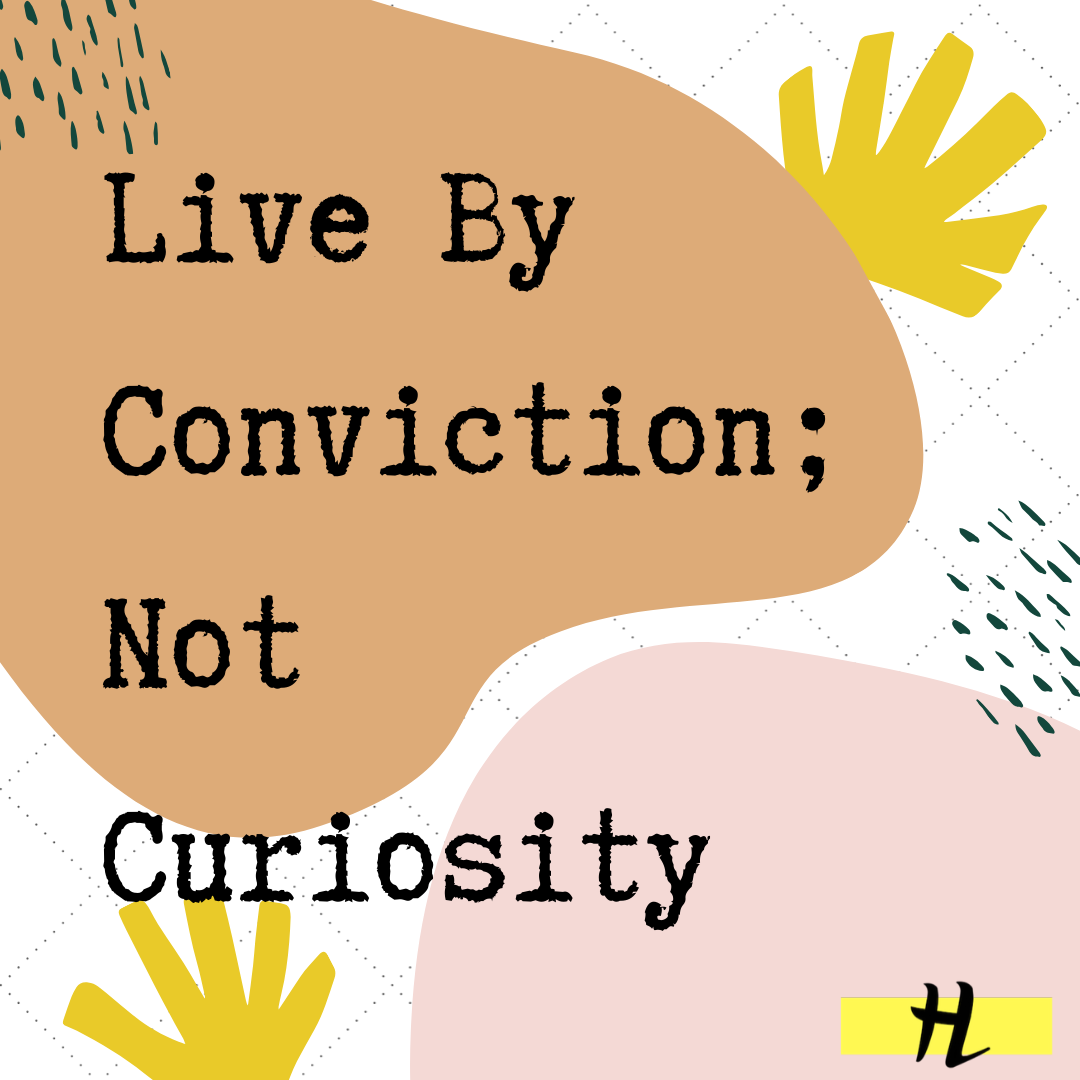 What do "they" say – curiosity killed the cat? If you can't live being curious, what do you live by? I don't think we have a problem living curiously. Albert Einstein said, "The important thing is not to stop questioning . . . never lose a holy curiosity." There are travel blogs talking about how being curious is the way to see the world. Being curious is good for relationships because more questions are asked and that leads to getting to know someone better. However, should we let curiosity lead our decisions? The Bible says, "If any of you lacks wisdom, let him ask God, who gives generously to all without reproach, and it will be given him" (James 1:5). We require wisdom in decision-making, not curiosity.
Recently, I had a conversation with a friend that had me thinking about how curiosity can rule decisions. She shared with me how she was curious about smoking marijuana. I found this so interesting— I mean, she was not someone I would have expected to want to try marijuana. I asked her what changed that had made her want to try it, but she simply said, "I was curious." I am very familiar with that feeling, and I've made decisions based off of curiosity. I stayed in a dating relationship because I was "curious." I got a Facebook before I was supposed to when I was a teenager because I was "curious." Have you had this feeling too? Have you ever thought, "if we don't live by or make decisions based on curiosity, how do we make choices?
Let's take a look at Daniel's life in the Bible. In the very first part of the Book of Daniel, we see history being played out as Judah is under Babylonian captivity. At the time, the king, Nebuchadnezzar, was a powerful ruler. He decided that he wanted nobility from Judah to help him rule, so the best and the brightest of Judah were brought to Babylon to learn from king Nebuchadnezzar. Daniel and his friends were described in the Book of Daniel as "youths," but the Hebrew translation literally means "children." Daniel is said to have been about 15 years old . I am fascinated by Daniel's life— not only was he a foreigner in a strange land, but he also may have been a teenager. Anyways, this young boy and his friends were allowed to eat food and drink wine from the king's very own dinner table. It is thought that this was done to show the young men that they were more than captives. They were chosen to be rulers in a foreign land with all the splendors of the king's pleasures at their fingertips. Now I don't know about you, but I might be a little curious about this seemingly fabulous life I was being introduced to.
In Daniel 8:1, we read how Daniel handles this new, exciting experience: "But Daniel resolved not to defile himself with the royal food and wine, and he asked the chief official for permission not to defile himself this way." Other translations of this verse say that Daniel had made up his mind, resolved, was devoted, committed, and was decided. Taken literally, this verse means he "set upon his heart." One reason Daniel said no to the king's food was because the served meat was not kosher. This means it was against the laws God had given to his people to eat the kind of meat that would be served at the king's table. The wine would have been offered to false gods as a means for deliverance, and if following the laws of God, there is no way Daniel would have wanted to partake in that.
Daniel's strict convictions set him up to be different. to live for God, to succeed, but most importantly, God powerfully used his life. Daniel not only did great things for Babylon, but he also introduced YHWH to the Babylonian rulers during his lifetime. If we read the second half of the Book of Daniel, we can find prophecy about Jesus' coming and the end times. God used Daniel's life during a dark time of His people's history. I cannot be sure that would have happened if Daniel lived by his curiosity. He needed to be convicted and persistent to live for God to be used in such mighty ways.
I came up with a few things we can learn from Daniel's life:
1. God has a bigger plan than we know, so we need to start living intentionally. The book of Daniel was written by Daniel and is filled with prophecy about Jesus and the end times.
2. Living with conviction is gained when we have a relationship with God and understanding that He has a wonderful plan for our lives; it doesn't just mean abstaining from things that are sinful or can hurt us.
3. Knowing God's rules or laws are the first step to knowing how to be convicted. The second step is to know that those laws are guidelines to help us to thrive. The third step is to have a real relationship with God to know what he knows. Daniel prayed consistently three times a day to check in with God.
What are you curious about? What is your conviction regarding your curiosity?