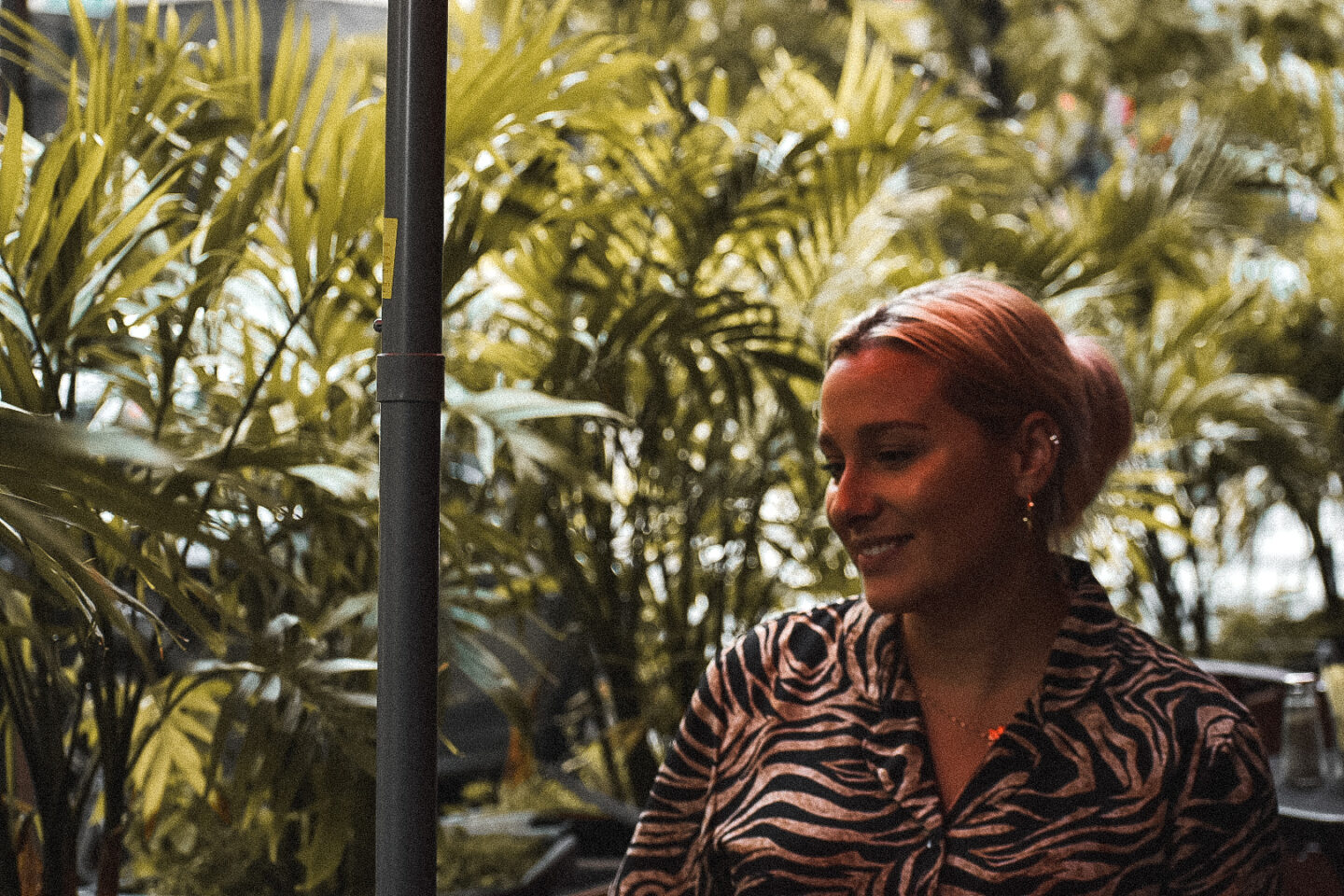 Photos taken by Hannah Forrider. All links are affiliates. If you shop and use the link I do receive a small commission.
Since 2015 I have been a blonde on and off. It all started one night at midnight after a horrible break up. My friend Kieran and I went to the local Walgreens and bought box dye and bleach… horrible idea. I think at one point I did get it done professionally and continued doing that for awhile (Sam you are still one of my faves). I loved being blonde. I still do. That's why I wanted to share with you some of the fun tips and tricks I've found since going the DIY route when it comes to dying my hair blonde. I do want to note that this will not show you how to dye your hair with highlights, balayage or ombre. I only know how to bleach your hair one color and tone it to the desired blonde you want.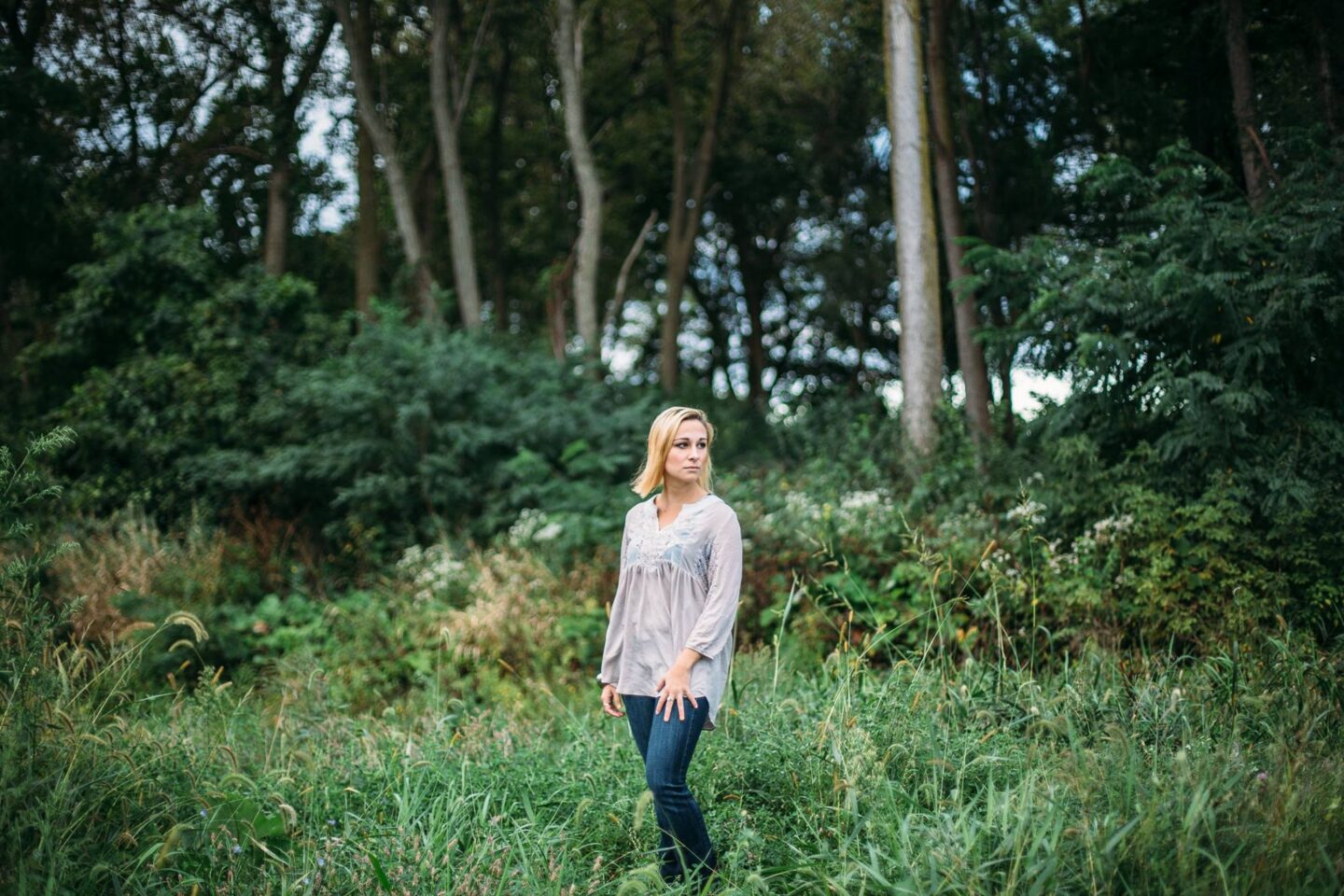 I am also hoping these photos and blog post give you a little laugh as you walk down memory lane with me. If you have a little panic in your stomach after the first bleach — that's normal.
This photo to the left was the first time I bleached my hair. It was around the time that Kim Kardashian had her bronze blonde look. We all thought it was cool, but really we didn't know anything about toning or purple shampoo at the time.
… That came later.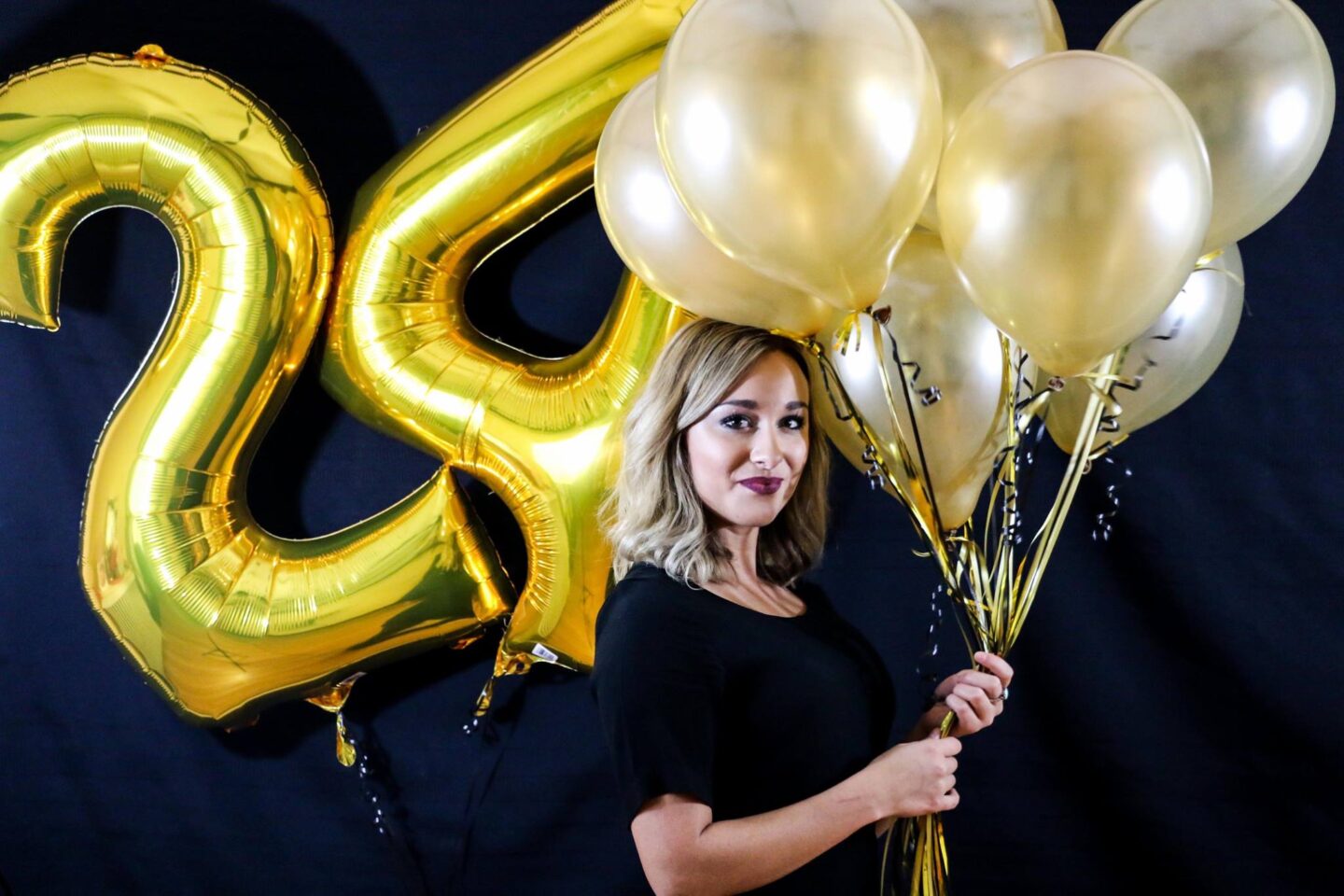 Later, I actually went to the salon for my blonde. Those were the good days. My hair stylist, Sam, never wanted me to look fake blonde. She always kept brunette undertones throughout my hair.
This photo was from my 24th birthday. I loved my hair.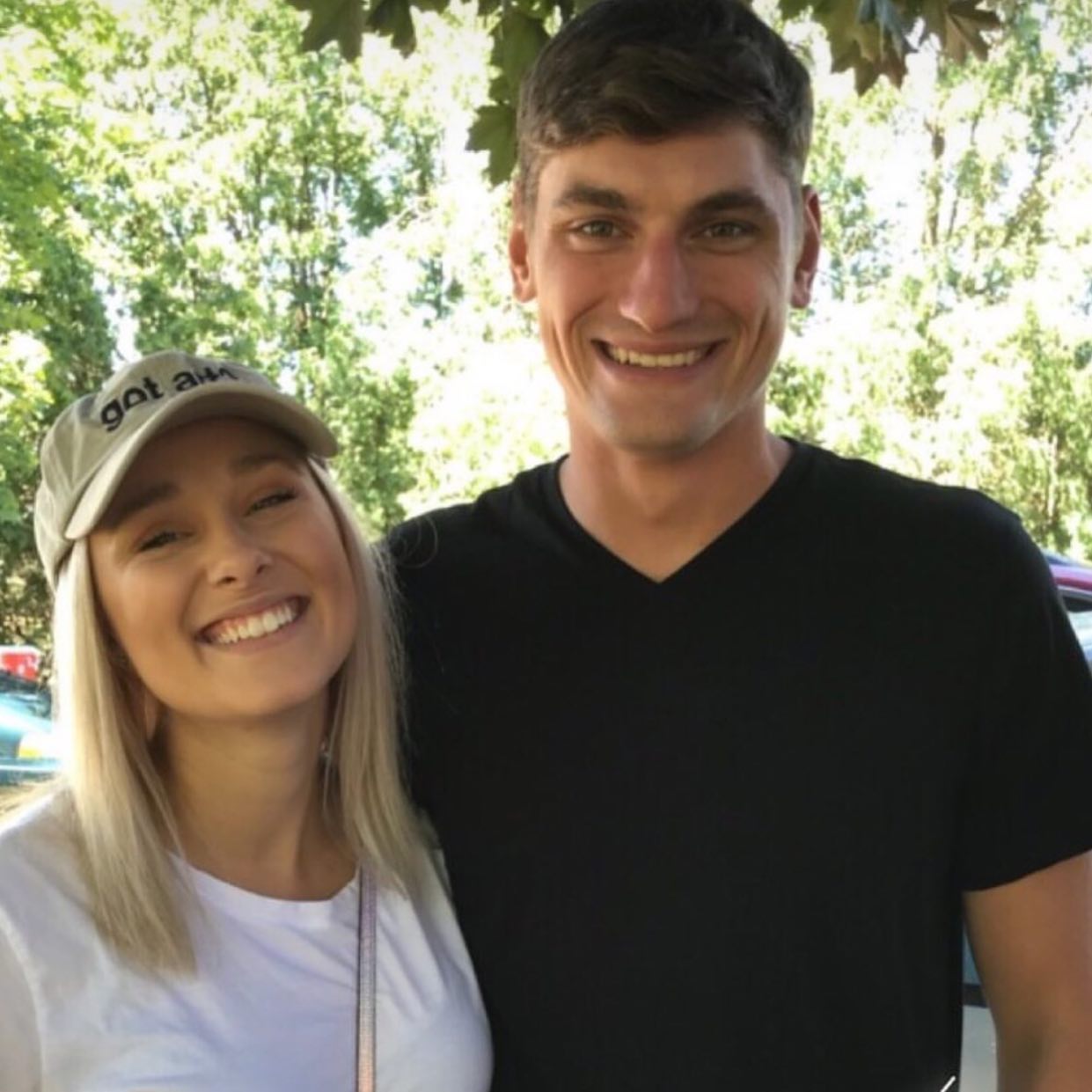 When John and I started dating I was back to being entirely blonde. Kieran helped me again as I was inspired by In the Frow, a fashion blogger, who had entirely one shade of ash blonde hair for her wedding.
As John and I started talking about getting married I was prepping my wedding hair.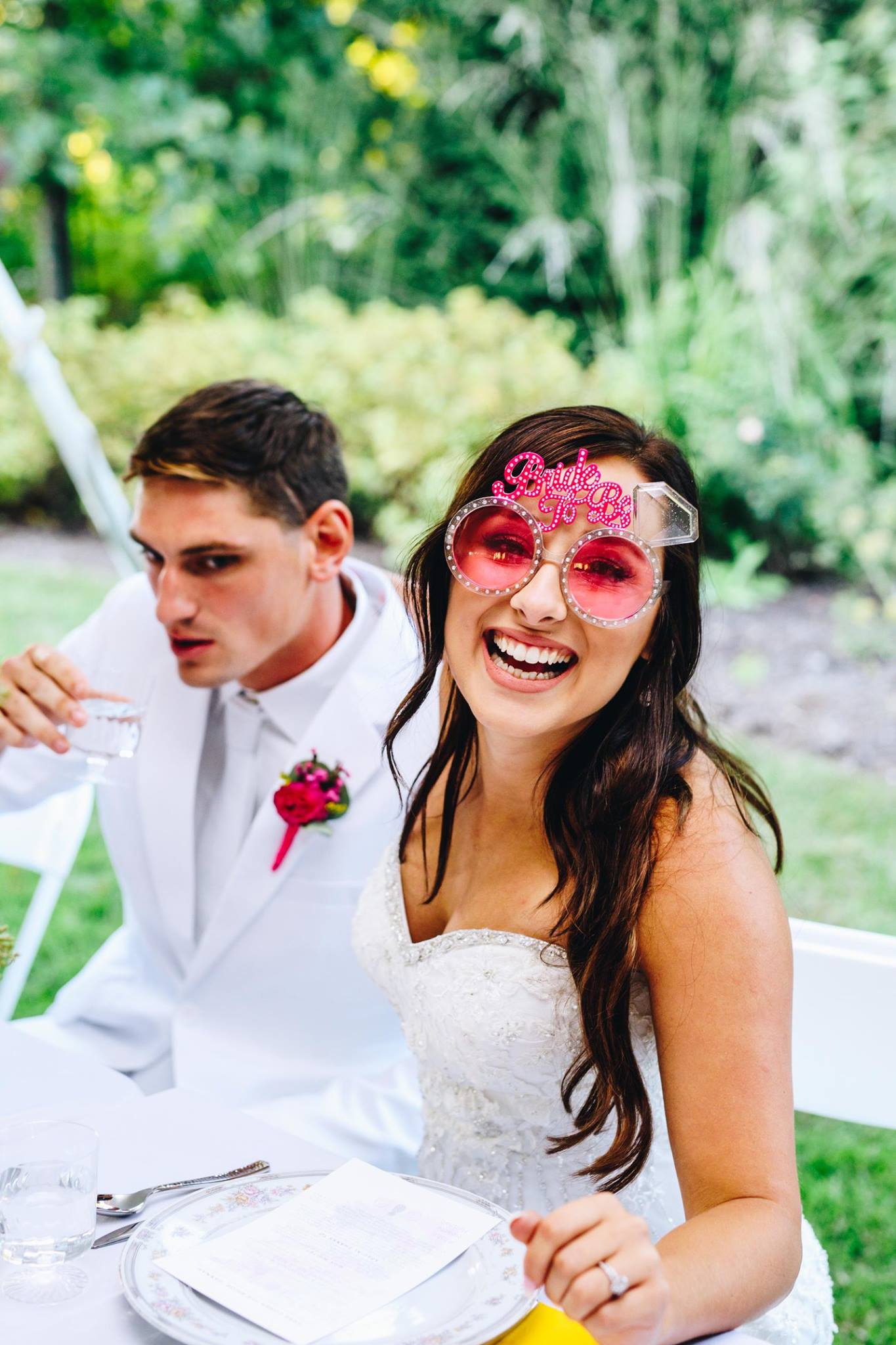 Needless to say, that didn't really happen… I freaked out right before my wedding and instead of going blonde, like my extensions, I went back to my natural color.
A year after married I went right back to being blonde. Because blondes really do have more fun. During the pandemic I decided I wanted to get better at bleaching my roots. So I went back to bleaching my hair blonde from home.
Today I want to teach you how to bleach your hair blonde when you feel like it!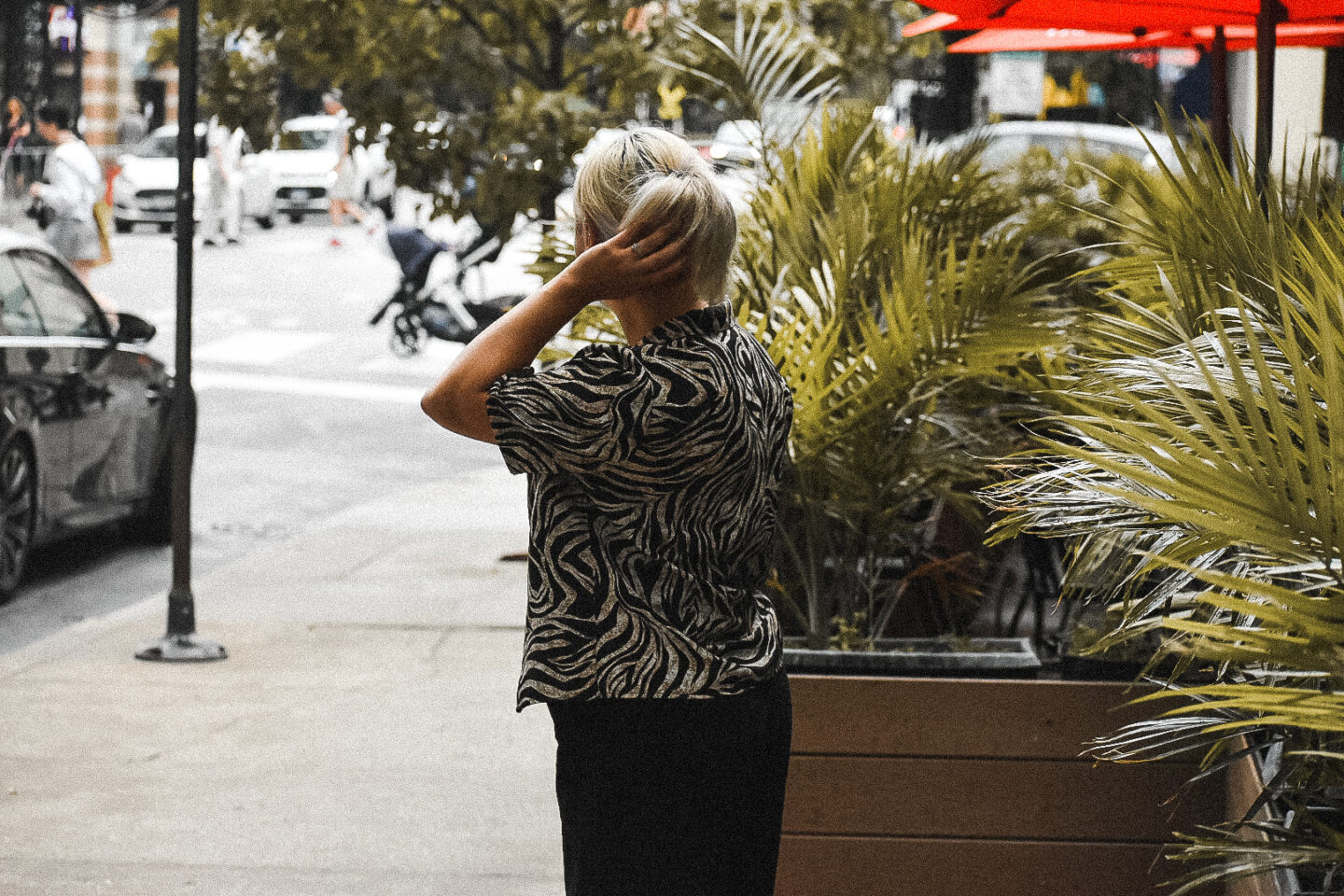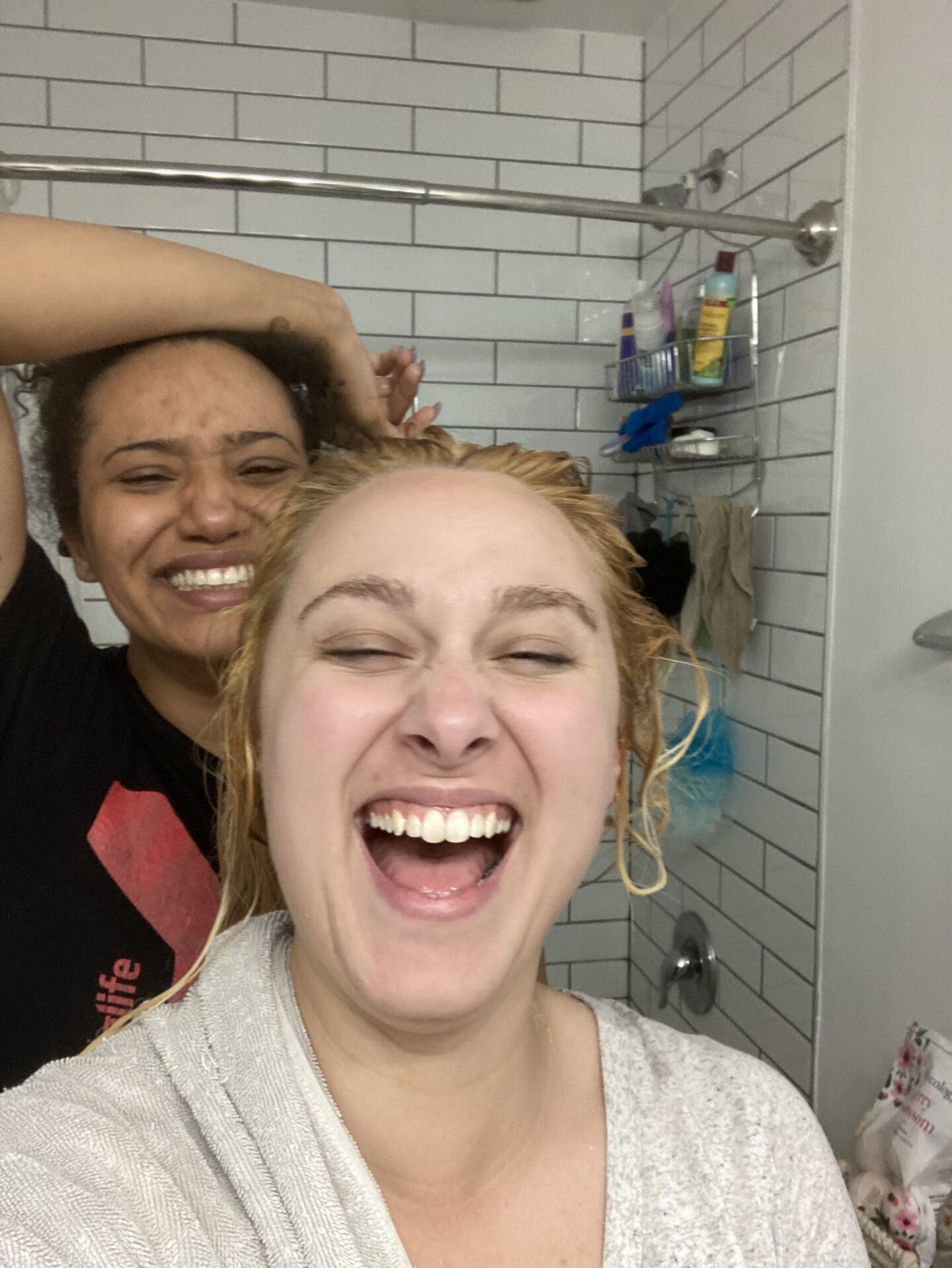 1. Get Your Supplies
Typically I will make a trip to Sally's Beauty Supply or an Ulta. But in this blog post I listed all the same products I use through Amazon so that it is convenient for you.
Shopping List:
Purple Conditioner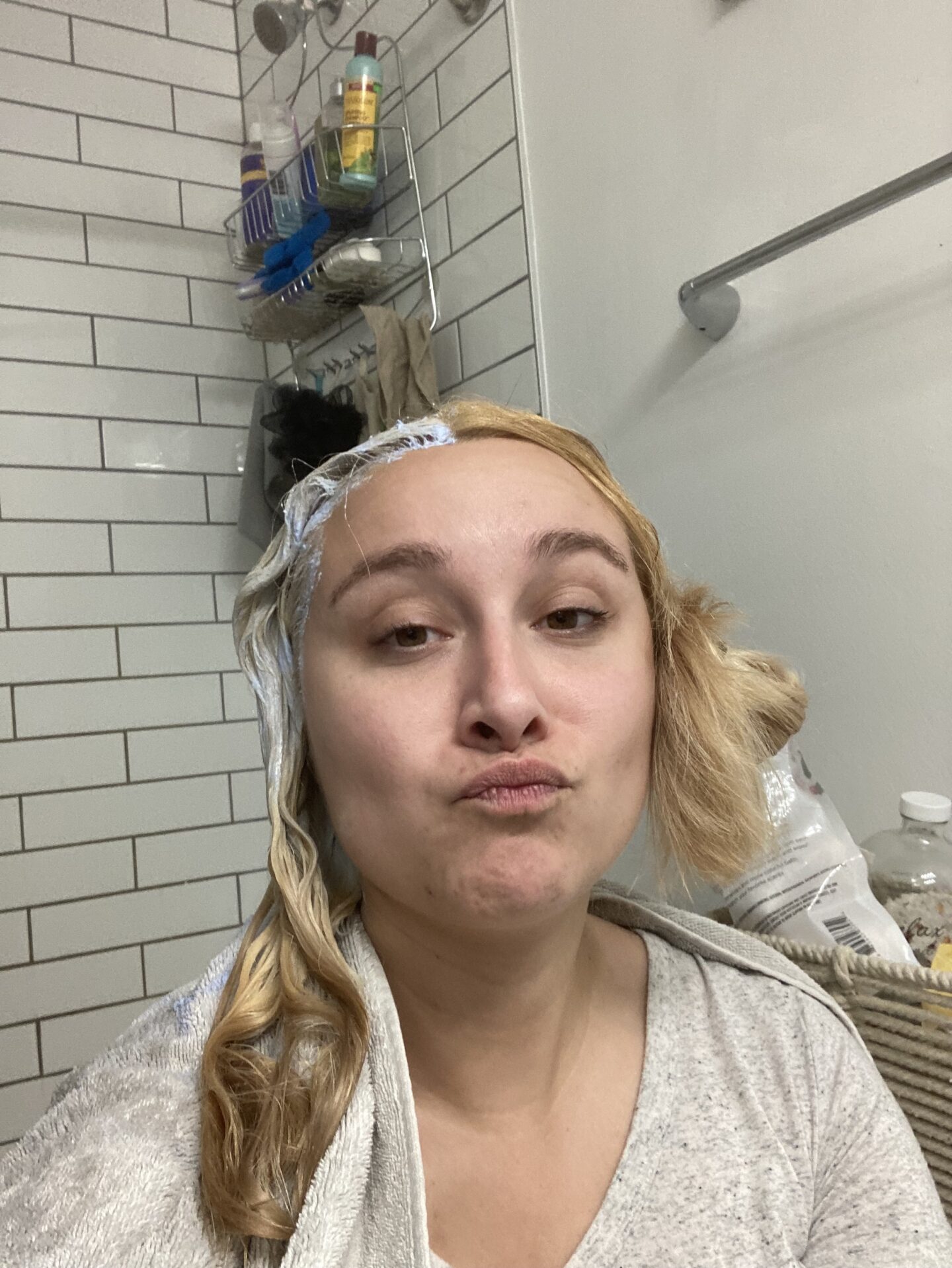 2. Use Developer + Bleach
Use the bleach and developer starting with the bottom of your hair towards the roots. The top of your head, your roots, are hotter than the rest of your hair. This is why your roots will be bleached or developed quicker than the rest of your hair. Just keep that in mind during the whole process. You really want to paint the bleach on to your hair evenly so section off your hair starting with your underneath layer.
The amount of developer in your mixing bowl should be around 1 cup and about one scoop of bleach.
3. Use Developer + Toner
Now you are looking to tone your bleached hair. It is ok if your hair is a brassy yellow. That's what the T18 Toner is for. I would tone your hair for a few minutes.
Again use 1 cup of developer and about five drops of the T18 toner.
I think it's important that this is such an art and you may have to bleach your hair a few times or tone your hair a few times after. It may take you 8 hours or you may have to try again on the second day (all things that have happened to me). At the end of the day your total should be around 40-60 dollars instead of the 260-400 dollars you may spend on your blonde look.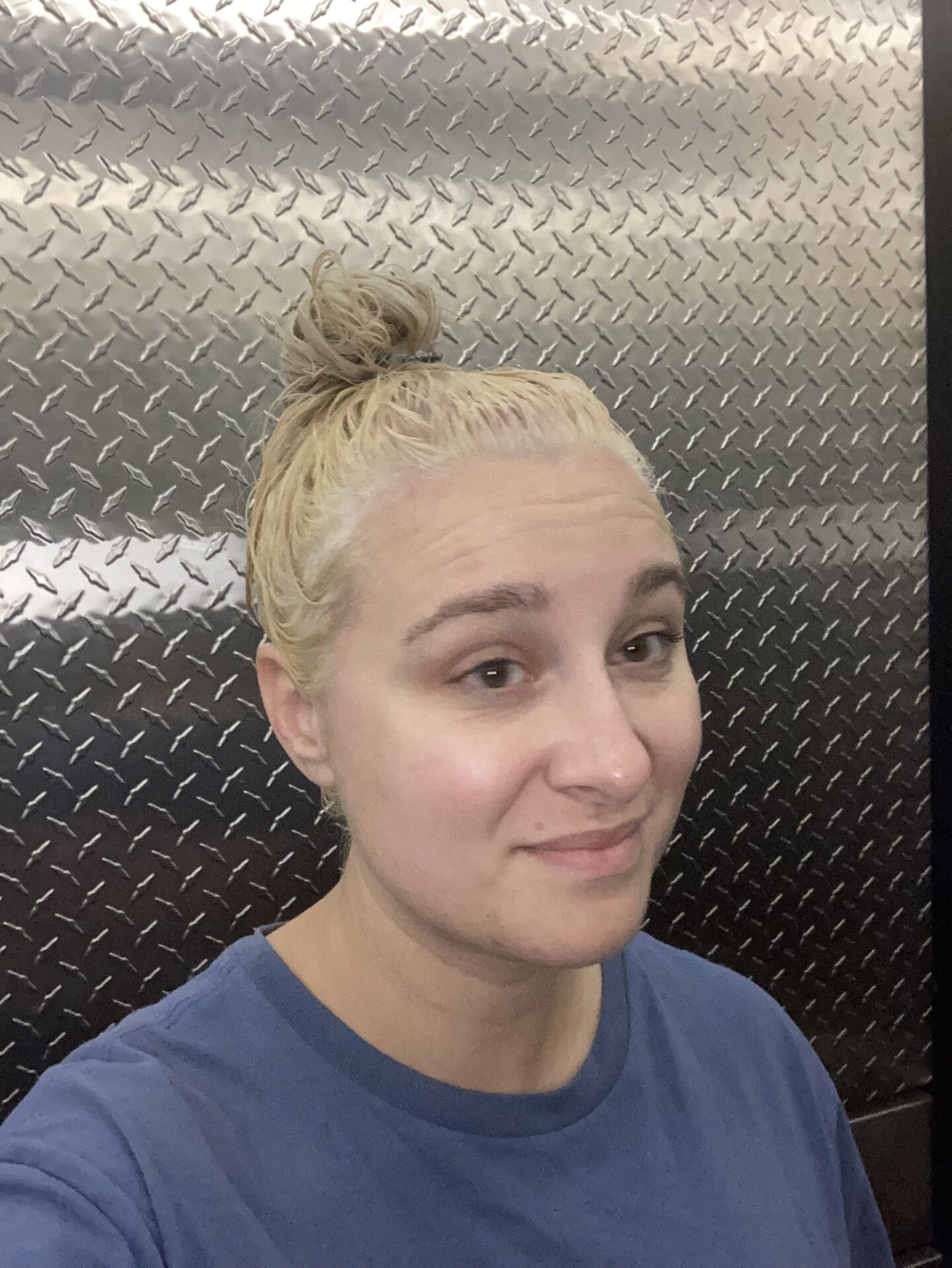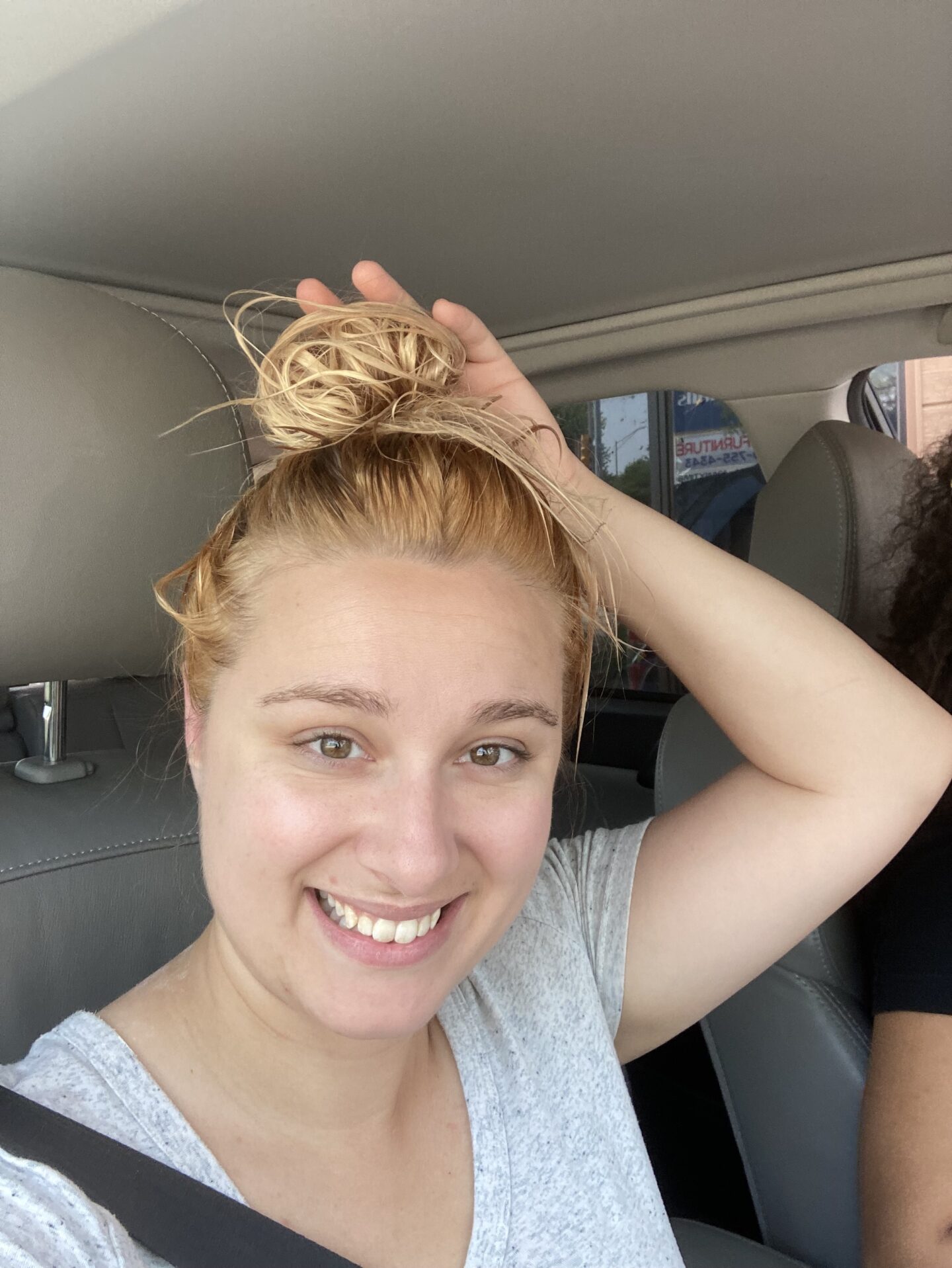 How to Tone Your Blonde Hair At Home
When Toning your hair Blonde at home there's two simple methods. You can start with a Purple shampoo. I have only found that Shimmer Lights purple shampoo works for me when toning. I typically will leave the shampoo in my hair for around 20-15 minutes depending on how brassy my hair is. My blonde doesn't stay in long since I believe my hair has more red tones in it.
If that doesn't work I would suggest using developer and T18 or the toner that is your hair color. Use a brush to carefully paint the mixture of toner and developer over your blonde. Both options should keep you from going to the hairdresser too early.
Products for Blonde Hair I Use + Love
Good Luck! And thanks for stopping by! HL