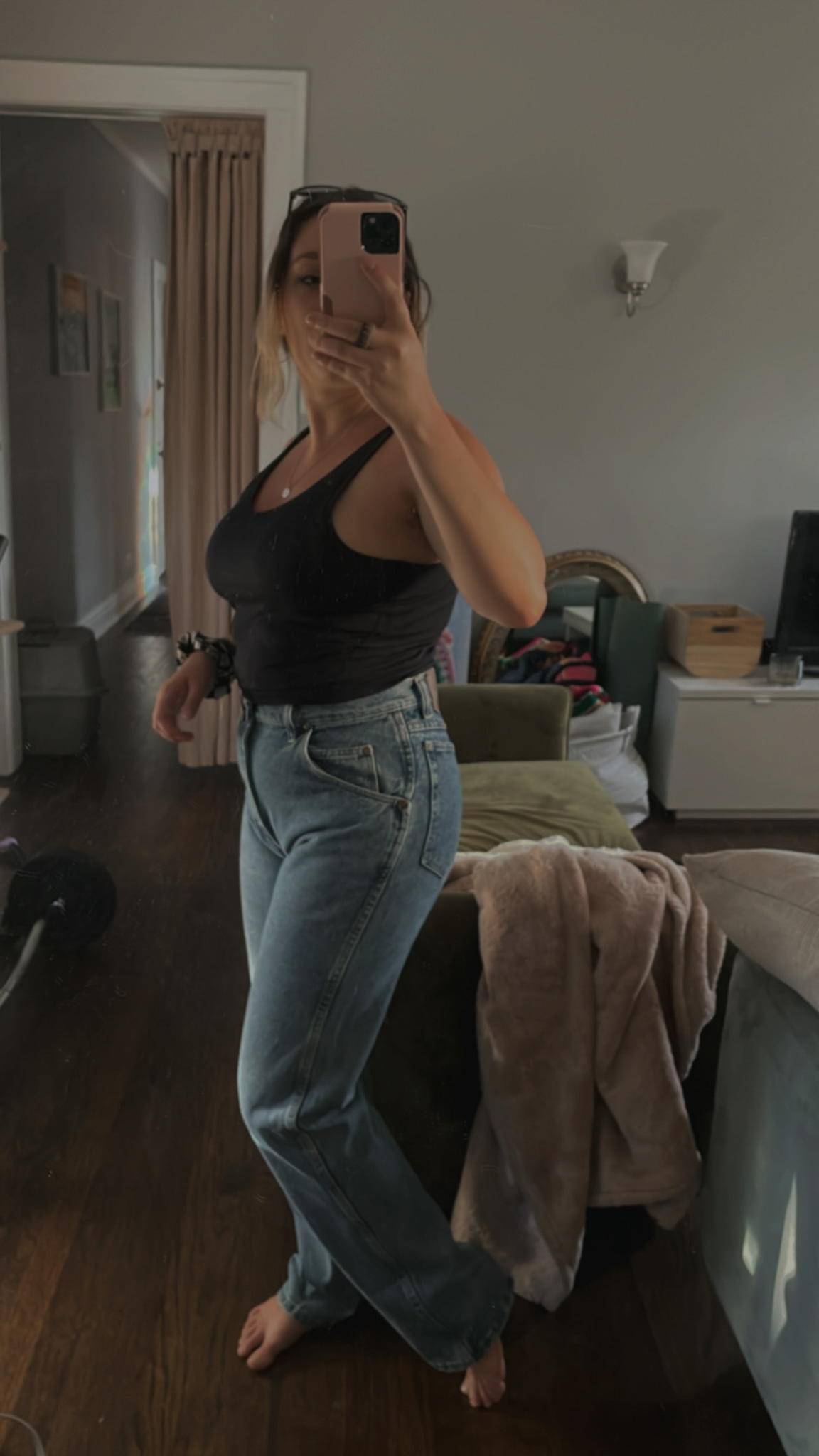 How to Shop More Sustainably
I have been such a fan of sustainable fashion for years. I have written about sustainable fashion ever since I started a fashion blog. You all know that I really think it's responsible and the way to go. If I can do better (a fashion maximalist) — you can do it too. Here's my best tips for how to shop more sustainably.
I hope that after you read about what sustainable fashion is you can come back to this post to get the best practical ideas. The key to a better sustainable wardrobe is really shopping for better quality items that have a longer life.
Recycled Denim
Using recycled clothing to make new clothing is a whole science. I find it so fascinating. Recycled denim seems to be the most popular right now. American Eagle encouraged consumers to drop off their old jeans for $5 towards their next purchase. Urban Outfitters always has a rack of recycled or vintage jeans. Denim, when created right, lasts a long time. I love shopping for vintage denim. I found some at a garage sale for $5 and I thought wow these jeans are never going to age. Giving recycled denim is a great way to go.
"Since the Blue Jeans Go Green™ is a program where more than 1,950 tons of denim have been diverted from landfills, and it was reported that more than 3,900,000 pieces of denim have been recycled. The Blue Jeans Go Green™ program invites consumers to drop off their old worn cotton denim pieces at participating retailers or local events. When dropping off at stores, shoppers are often given either money toward or a percentage off their next denim purchase. Some of this year's retailers include Industry Standard, Just Black Denim, Paige denim, PacSun, and Levi's®." – The Sourcing Journal
If you have the opportunity to donate your old jeans, try it out. I also think that recycled denim is something to be proud to invest in.
The Certifications to Look for
Just because there's a sticker on the tag that says, "sustainable" doesn't mean it is. Sustainability has to do with a lot of things. We look at the materials that are used in the clothing item along with the way it is made. Are the factories putting pollution into the air or making the surrounding areas unhealthy to live in? This is also factored into the sustainable label. When a brand says their product is sustainable, but doesn't tell you how or why, this is called "greenwashing" and it is something to look out for.
The issue is that you don't have one agreed upon sustainable checklist.
"For example, sustainability may mean biodegradability and plant-derived ingredients to one company, but responsibly sourced palm oil and recyclable packaging to another." – Cara Bondi, VP of Product Development and Regulatory at Ursa Major Skincare, a certified B Corp
Without a government regulation of what is sustainable we have to look for the second best, which is a third-party organization certification.
I want to write an entire post about Fair-Trade and really do some research, but here's a start, because I feel like this kind of certification is really important and a lot more regulated. Something I am so passionate about is how others are treated. I've been saying this for years — there's no way the price of clothes should be this cheap. The reason this is happening is because of insanely cheap labor in countries like India, China, Indonesia, the Philippines. It's just not ok. I saw first hand in the Philippines how women chose to have a job in the sex industry bc there were not enough jobs where they could make a livable wage. Yes, working in a textile factory is a job, but it's not a sustainable lifestyle for anyone. Buying more fair-trade will help fight against this harsh reality.
Fairtrade International
Look for Fairtrade International. Fairtrade International is a non-profit that promotes fair wages globally. They promote fair wages and safe working environments in industries like coffee and textiles. The industry is tested by an audit of Fairtrade International. This process is called FLOCERT.
If a company applies and is accepted through the audit they then can use the FAIRTRADE Certification Mark across all their products.
Global Organic Textile Standard
"For a company to be certified, it must be at least 95 percent natural organic fibers. Products must not contain formaldehyde, aromatic solvents, GMOs, toxic heavy metals—to name a few." – Global Organic Textile Standard (GOTS)
EWG Verified
The Environmental Working Group Verified certification ensures that beauty products show their ingredients and manufacturing process. A company has to submit each product and disclose all allergens and fragrances. Each product has to be 100% free from contaminants and score a low hazard rating. The most important part of this verification is that the company has to disclose what is in the product to the public.
There are other ways to regulate products like Certified B Corporation, Climate Neutral, Forest Stewardship Council®, Leaping Bunny Program, but these are my top most important.
Known Sustainable Items
Always check to see what the product is made of. For instance, Nordstrom will say what percentage of sustainable, organic, or recycled material. Every bit helps. These labels are not perfect and it is important to keep in mind that every brand is trying to put this label on their clothes for marketing purposes so do your research.
"This product meets Nordstrom Sustainably Sourced Materials criteria: contains at least 50% sustainably sourced materials"
Madewell has a section under their item's description called "Do Well"
"Do Well: Crafted with REPREVE® polyester made from recycled plastic bottles."
I also love how Madewell gives care tips. I am currently working on a page full of care tips for your clothes so that you can mend, fix, clean your clothes instead of throwing it out. Below is a design that Madewell has on their site below their 100% cotton overalls. It may not be made out of recycled materials, but they want to make sure it lasts for you.
I hope these ideas inspire you to make shopping more sustainable. Again, I am not a pro on this topic, but I am passionate about educating ourselves on where our money is going. We can never know for sure and we can not shop 100% ethically yet. However, I hope that this helps you if you are wanting to be educated in shopping better, cleaner, ethical products.
HL
Shop Sustainable HERE