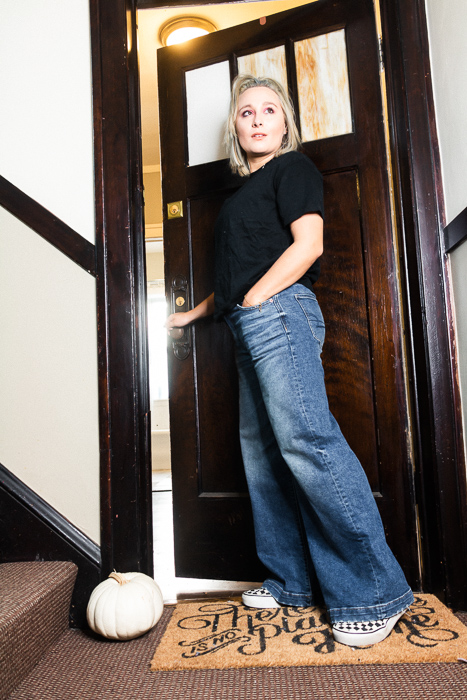 ---
---
It's fall and I am loving it! Along with fall comes comfy sweaters, leather jackets, vintage sweatshirts, and pumpkins!
I am so here for it. This week I went grocery shopping (John and I usually go together). I made sure to buy pumpkin pies, a container of pumpkin spice Starbucks latte, and pumpkin spice creamer for normal coffee. I found a bag of gourds at the grocery store too. SO MUCH FUN.
I came across these American Eagle jeans and I am obsessed. Here's some ways to style the wide leg jeans.
My tip:
Since I am more of a petite size I found that the cropped leather jacket or the cropped black shirt helped a lot. When I added the vintage sweatshirt I was just looking comfy and a very casual, which is a whole weekend in the 70s look. I would wear more cropped jackets and cropped tops when wearing a wide leg high waisted jean when dressing up.
The result:
You will find a great vintage look for the fall with any wide leg jeans. Pair this with platform shoes, chucks, vans, or chunky white sneakers. You'll be surprised how comfortable the wide leg jeans will be vs. your skinny jeans. They might even take you back in time for when the flair jean was a staple.